The last part of this search for some of Watson Fothergill's buildings in Nottingham lead me to Mapperley Road (after a brief stop for much needed tea at Homemade Cafe in the Pavillion on The Forest Rec.)
Up on the corner of Mansfield Road and Mapperley Road is St Andrew's House. (A48 in the Fothergill Catalogue.) Here Fothergill designed a three storey addition to the existing dwelling, plus a single storey waiting room and consulting room on the Mapperley Road side for a Dr Stewart in 1886. Fothergill had previously noted in his diary in July 1885 that the
"stucco house corner Mapperley Road Mansfield Road sold by auction to Stewart £2,600."
As Fothergill himself lived a little further up Mapperley Road he would have been keeping a close eye on the developments in the neighbourhood. In 1886, Dr Stewart engaged Fothergill to add 'Three Carriage Houses with hay loft over and harness room to the rear' (MW23). The date stone bares the owner's initials 'IS'.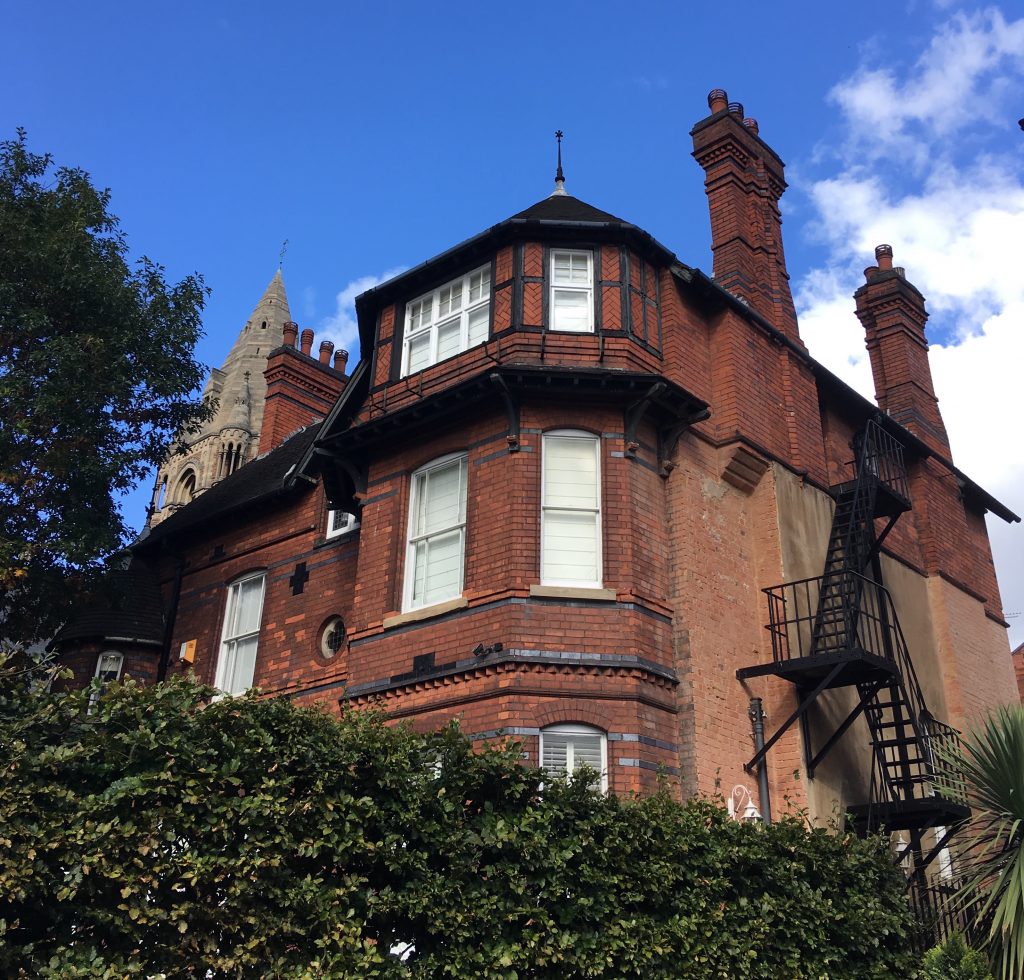 In Fothergill's work on the house you can see several features that he was to use in his buildings – brick nogging patterns, turrets, black woodwork and bargeboards (there's a slight Arts and Crafts feel to the porch) and large chimneys. There's no trace of the "stucco" he mentions in his diary.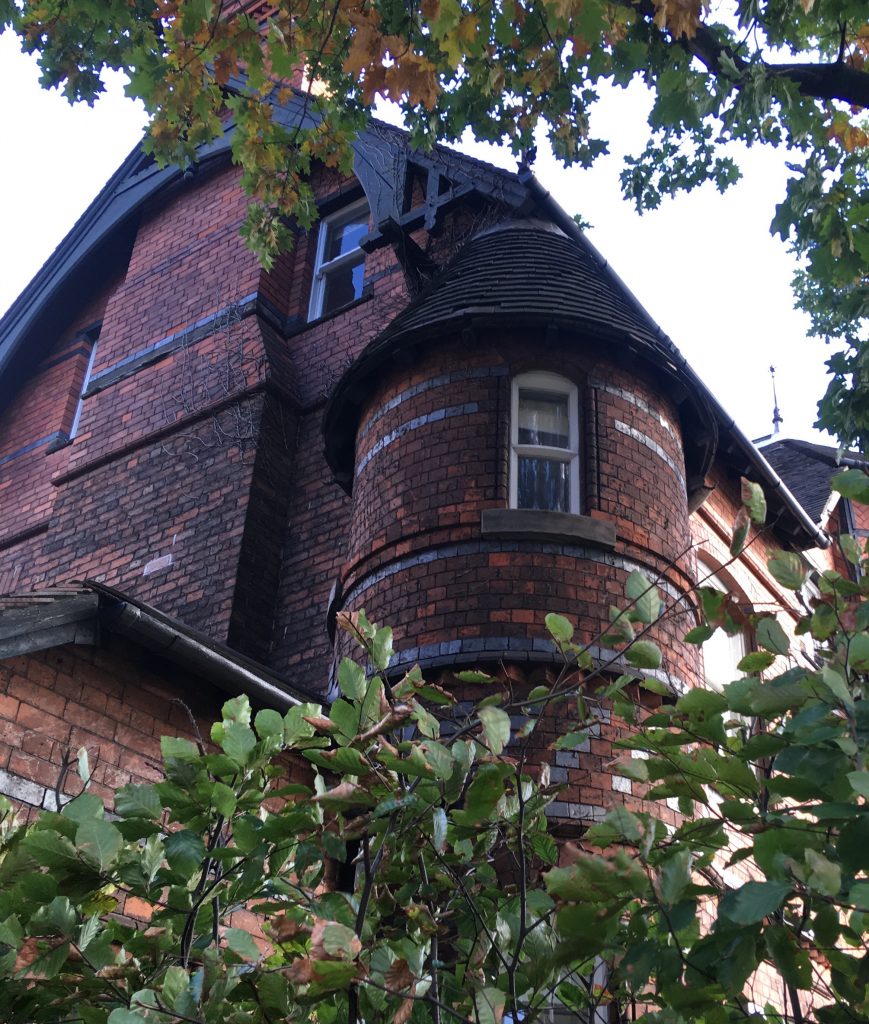 A few inconsistencies arise: The Historic England listing for the building has the owner as Dr Smart (per Ken Brand) and "St Andrews House" is now the name for a sheltered housing project close by. After Dr Stewart (I'm going to stick with the name quoted in Fothergill's diary by Darren Turner), this building was used as an office (from circa 1929) by Thomas Cecil Howitt (1889–1968) the Hucknall-born architect responsible for the design of Nottingham's Council House, the Raleigh head office on Lenton Boulevard and the Home Brewery building in Daybrook. (Perhaps another blog about him later!).
Back to Mapperley Road and to the site of Fothergill's own family home. 7 Mapperley Road (A3) was the first house Fothergill built, almost as the foundation of his architectural practice. The first brick was laid in 1871. Fothergill had carefully selected the site:
"This Autumn (1870) after searching all over town for a site we liked I bought a piece of land on the northern side of Mapperley Road in Mr Patchitt's estate."
The Watson Family, as they still were, moved in on 26th March 1872, though the workmen were not yet out of the house. Fothergill purchased adjacent land from Thomas Birkin in 1901, to extend as far as Chestnut Grove, where they laid out an ornamental garden and a tennis court.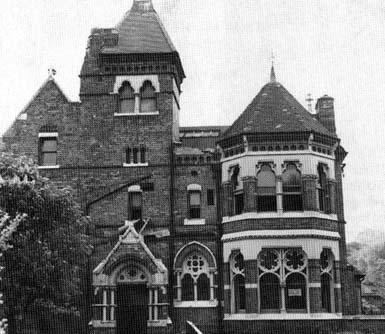 Now the only trace of Fothergill here is his name and some rather ugly maisonettes with faux-classical porches.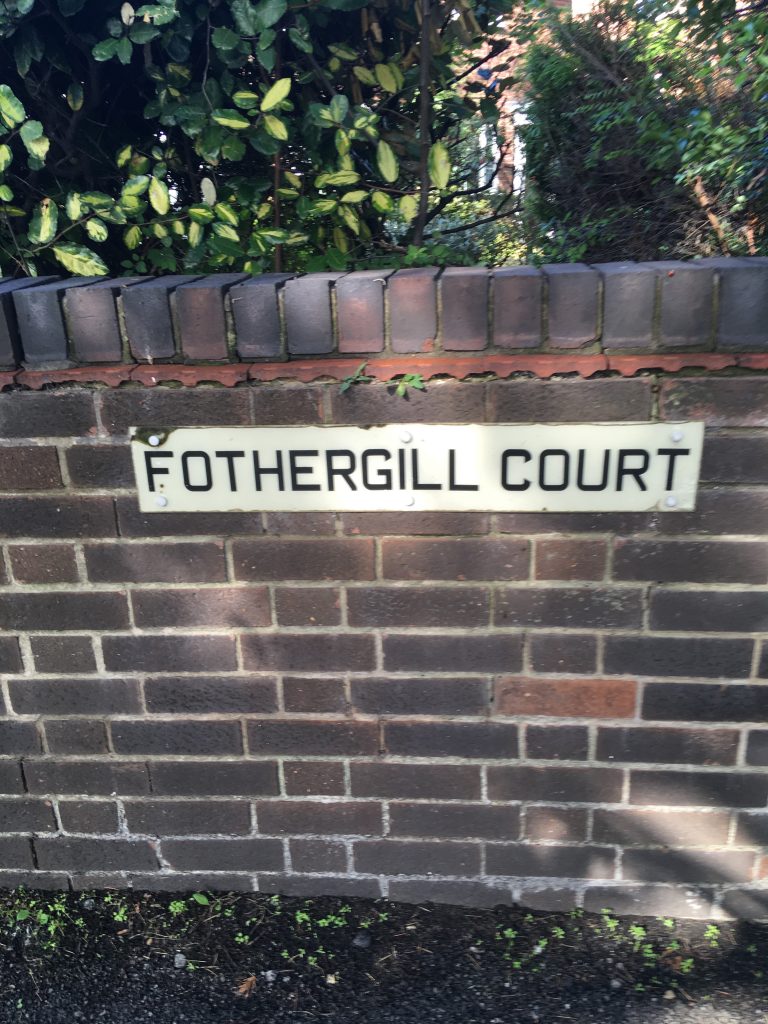 Round the corner into Elm Bank we can find one of Fothergill's assistant Lawrence George Summers' surviving projects. Alterations and additions to a villa, which was for a time Elm Bank Lodge Guest House (LGS9). Work was done in 1893 for a Mr Thomas Jopling. Summers added a breakfast room, kitchen and scullery with a bedroom over. Of all Summers' sole works, says Darren Turner, this design is the closest in style to the other work coming out of Fothergill's office. (More on Summers in future blogs.)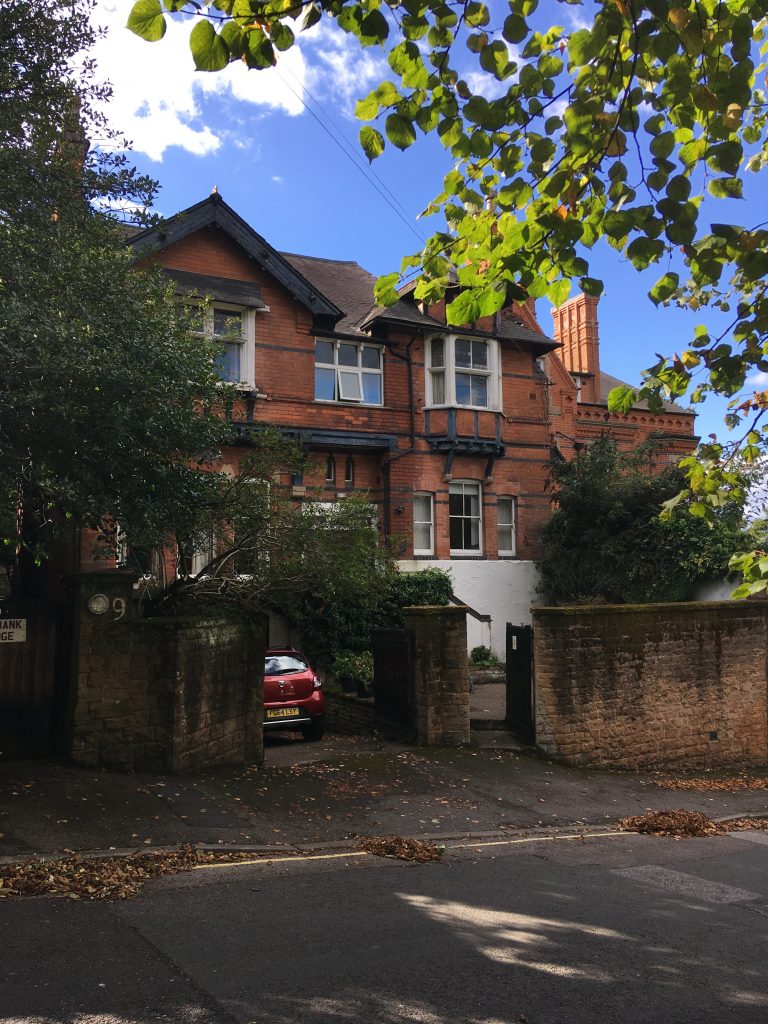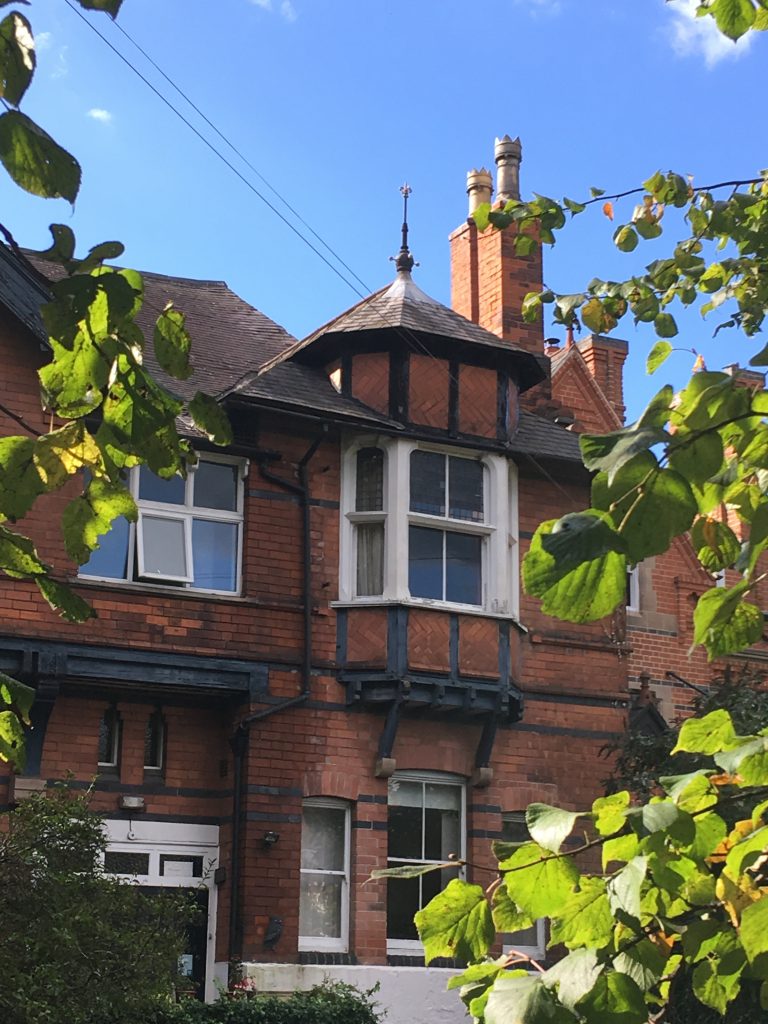 The hand of Summers can also be seen in the next house I looked at, back on Mapperley Road. 'Beechwood' 30A Mapperley Road (A76/ LGS20) was built for Mrs HA Wilkinson in 1905. Fothergill and Summers are listed as joint architects on the project and it is one of the last projects Fothergill would have worked on before he retired.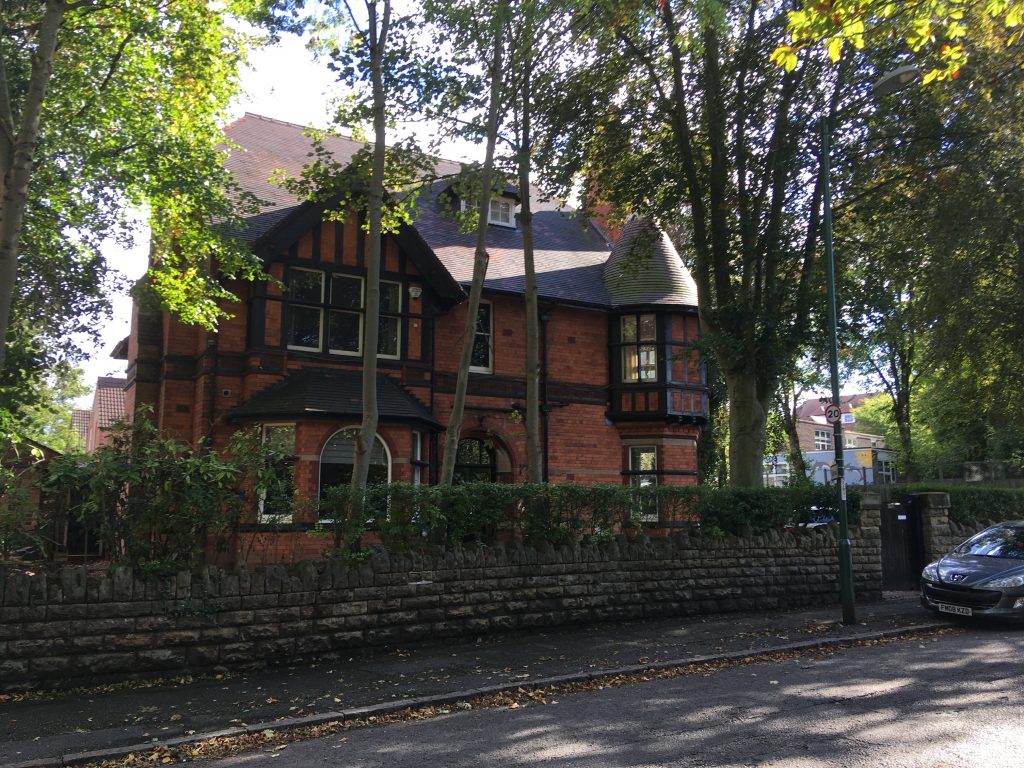 The three storey house employs recognisable Fothergill motifs, the turret, the nogging and black woodwork, but feels more domestic in scale than some of the early villas.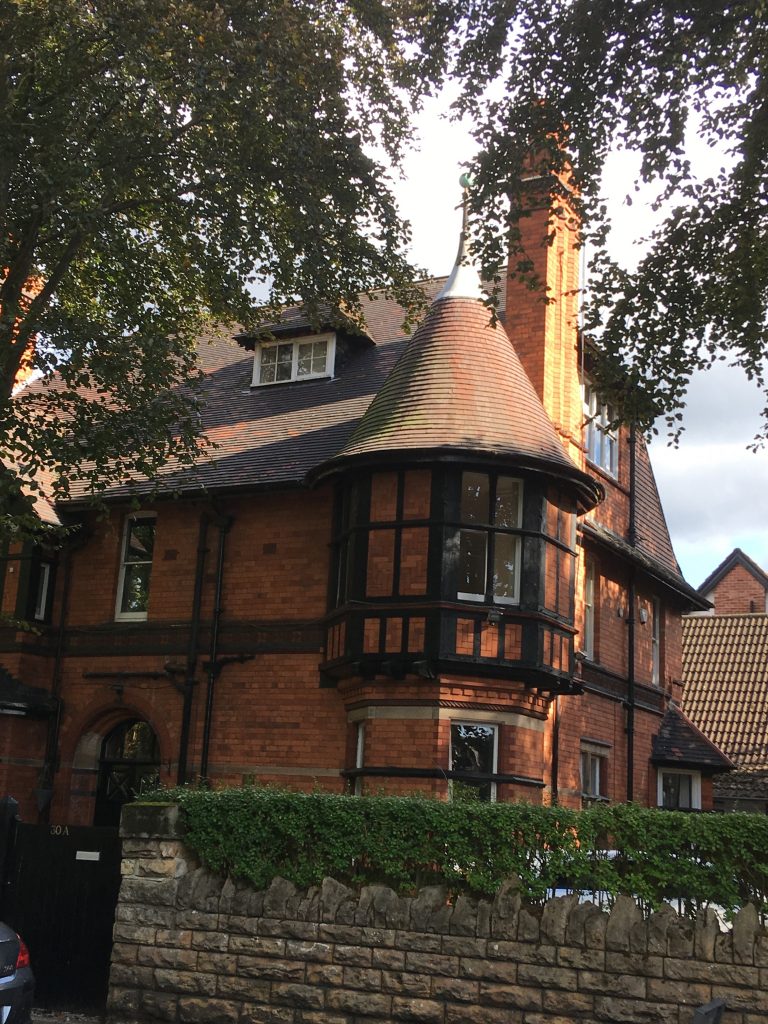 And there I started to get a blister on my foot… so this portion of the Fothergill safari is over for now. I hope to explore some other parts of Nottingham and bring you some more buildings soon.
Meanwhile the walks on 30 September are now full… Sign up to my mailing list or follow the Watson Fothergill Walk Facebook page for news of more events.