In these strange times while I'm not able to take walks out to look at buildings, I thought I would ask some of the people whom I've connected with through mutual interest in Fothergill and the buildings of Nottingham to answer a few questions to see what I could learn about their perspective.
First up illustrator Nick Coupland. I stumbled upon Nick's drawings on Twitter and recently purchased a print of his drawing of Watson Fothergill's office on George Street, Nottingham. It's on the wall in front of my desk, reminding me of what's out there waiting when I can get back to the tours…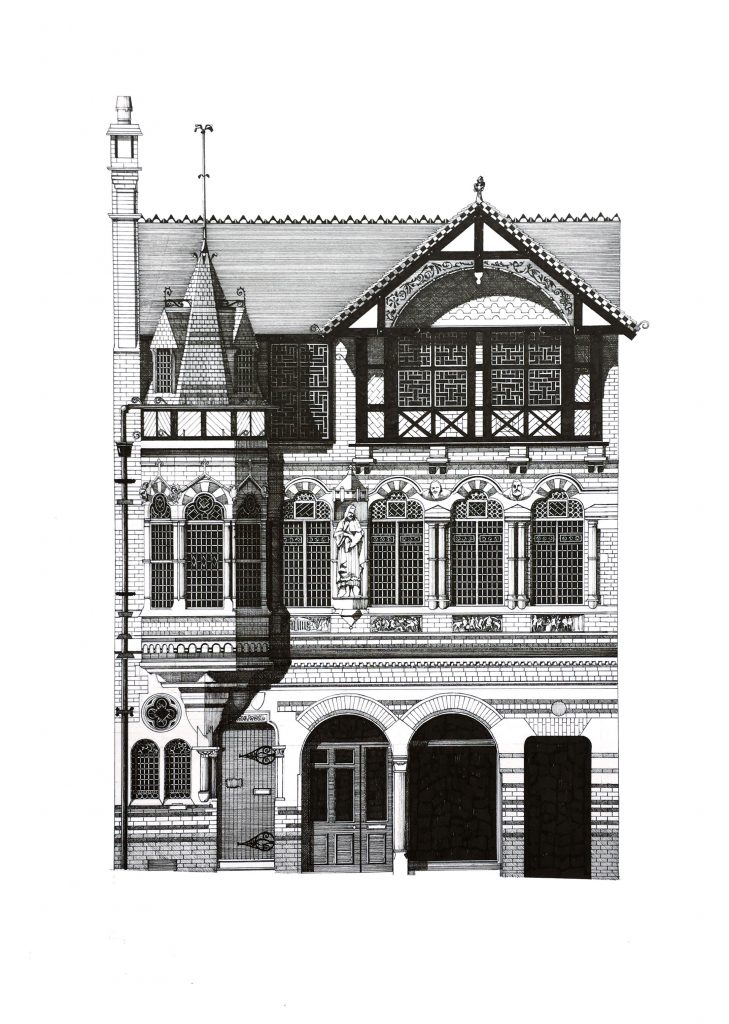 Nick is based near Hull, but his illustrations range from Modern Architecture icons to football stadiums, recently he has started drawing music venues. I asked him a few questions via email and learned a little about what makes him tick:
Lucy Brouwer: You draw a lot of modern architecture, very different from Fothergill's Gothic – what made you want to draw his Nottingham office building?
Nick Coupland: I was initially asked to draw the Fothergill building as a commission. I'd noticed the architect's work on a few visits to Nottingham so it was nice to get stuck into it, as it really is a unique building. It doesn't visually follow any set formula so you really have to draw it as you see it- there's no cheating with this one.
I normally draw a lot of post war architecture as I have a bit of a personal interest in it, but really I'll turn my pen to any style. I've drawn anything from people's first terraced houses to palaces and grand railway terminus.
The thing that made the Fothergill building so nice to draw is its changes in texture, form and shade- when you draw in pen and ink theses are the features that really make a building jump from the page.
LB: I really like your architectural map of Beverley – would you consider drawing more Nottingham buildings to make something similar?
NC: I originally did a cluster drawing of Hull and it worked quite nicely so I wanted to do something popular for the local market town of Beverley. I had a nice customer base there so I thought it would make sense to draw the architecture of the town.
For someone who enjoys post-war architecture, Beverley was fairly limited in that sense however it has a lovely range of contrasting styles.
Nottingham would be ideal due to it having a good mix, both Modern and Classical. I've previously drawn the old Boots building and am currently working on Rock City for a new project.
LB: I see from your social media that you've been drawing some favourite music venues lately; can you tell me a bit about these? (Love the Barras one! My first tour guiding gig was at The Barrowlands, Glasgow's premier live venue)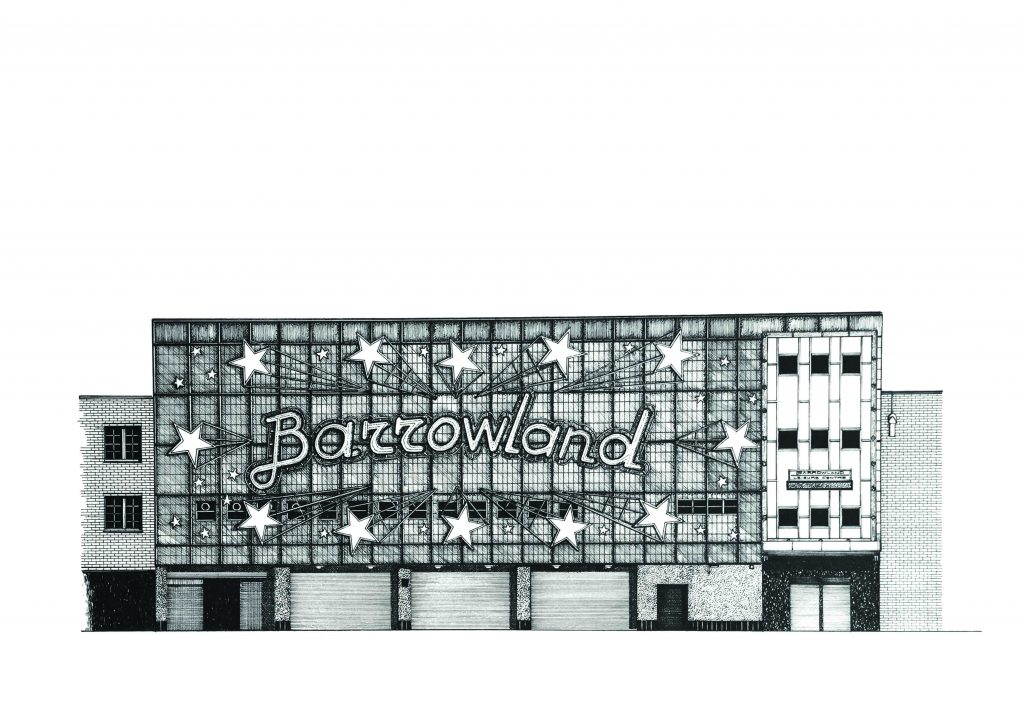 NC: I'm a big music fan and really enjoy live music- especially at independent venues. It's long been an ambition to combine the two interests in a project. I've been working on a series of drawings charting the nation's iconic venues up and down the country including those no longer around. The lockdown has meant a really tough time for music venues and the future looks uncertain for many of them so I'm exploring ways of possibly making the project beneficial in some way.
One thing I have noticed is how unique these venues are – I've loved drawing Glasgow Barrowland with its iconic illuminated sign, then I've also loved drawing Hull's Adelphi, which is basically an end terrace. What's noticeable though is how much these venues are adored by the public and how close they hold them to their hearts.
Concerts always seem to create good memories.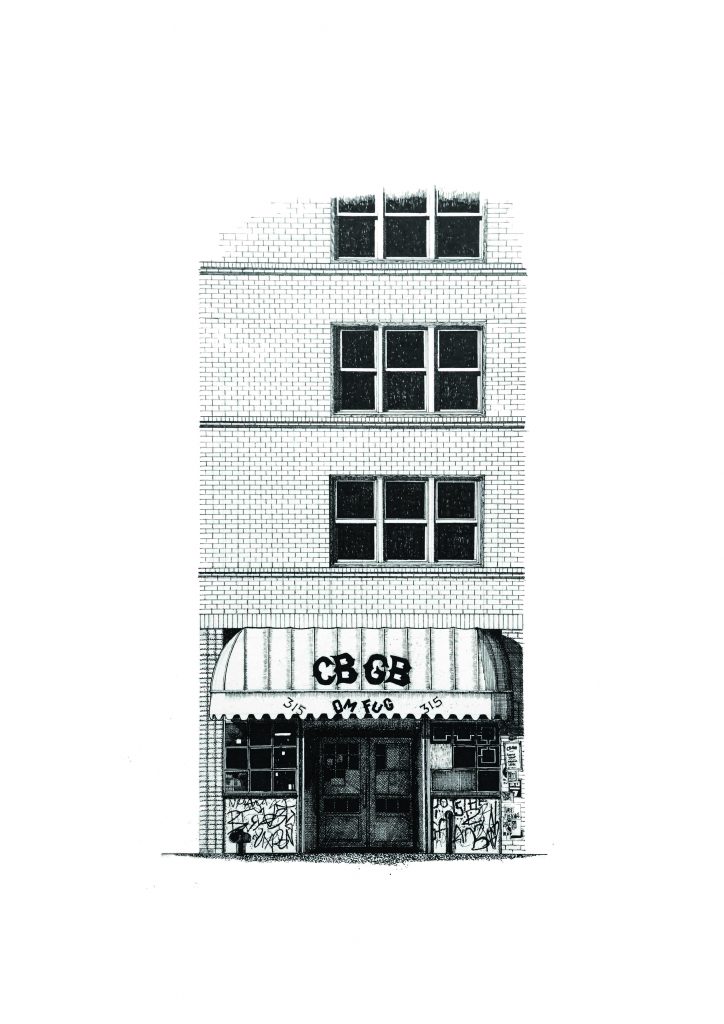 LB: Are there any buildings you'd like to draw that you've not had the chance to do yet? Do you need to visit them to draw them?
NC: There's so many beautiful buildings out there calling to be drawn, but the problem like so much of life is finding the time. I always have a few projects on the go at once and my style of drawing takes quite a long time to complete. I try to get to the building for sketches and photographs (and also just to get a feel for the place). However with so much architecture being demolished and many frontages being renovated- I often have to do a bit of detective work with old photos.
A good example this was drawing Portsmouth's now demolished Tricorn Centre. It took me a couple of weeks of looking at old photos and making sketches- my studio wall looked like a Hollywood detective's with pictures and notes stuck everywhere. I've always had a bit of an ambition to draw a long landscape of Habitat 67 in Montreal, I've made sketches so hopefully I'll get round to finishing it. Barrowland and New York's CBGB's were on my to-do list for ages.
Sometimes it's nice to take a little break from buildings though this does tend to be more personal rather than commercial. I recently got into a weird habit of drawing guitar foot pedals – I love the typography on them as well as their strange names.
Huge thanks to Nick for taking the time to talk to me, you can see more and buy his work at Nick Coupland Illustration or follow him on Twitter or Instagram.