My friends at the arts organisation Primary are currently crowdfunding to improve their building, which was formerly a school, at the corner of Ilkeston Road and Seely Road, Nottingham. You can help them to improve accessibility and make their studios, galleries and community venues even better for everyone and at the same time you get to own some original artworks, experiences and other great rewards. More info in their video:
But what do we know about the building and its architect, Abraham Harrison Goodall?
Built in 1882-3 as Ilkeston Road Board School, it is an early Nottingham example of a purpose built school from the Victorian era of compulsory elementary education. Education in Victorian Nottingham faced particular challenges, as many children were employed in the textile industries. In 1870, the Nottingham School Board was established to offer a programme of elementary education and by 1903 secondary education became available. In 1877, Basford, Lenton and Radford were subsumed into Nottingham City and so this school, which is technically in Radford, was part of that scheme.
The first wave of Nottingham Board Schools don't follow a single style. The architects Evans and Jolley, George Thomas Hine, Albert Nelson Bromley and Abraham Harrison Goodall were all appointed by the School Board in 1881 and worked on designing schools until Bromley became the School Board's sole consultant architect in 1891, when his rather more severe Renaissance style became dominant.
The Ilkeston Road Board School building (now Primary) was also built in Renaissance Revival style using red brick with decorative terracotta and ramped gables.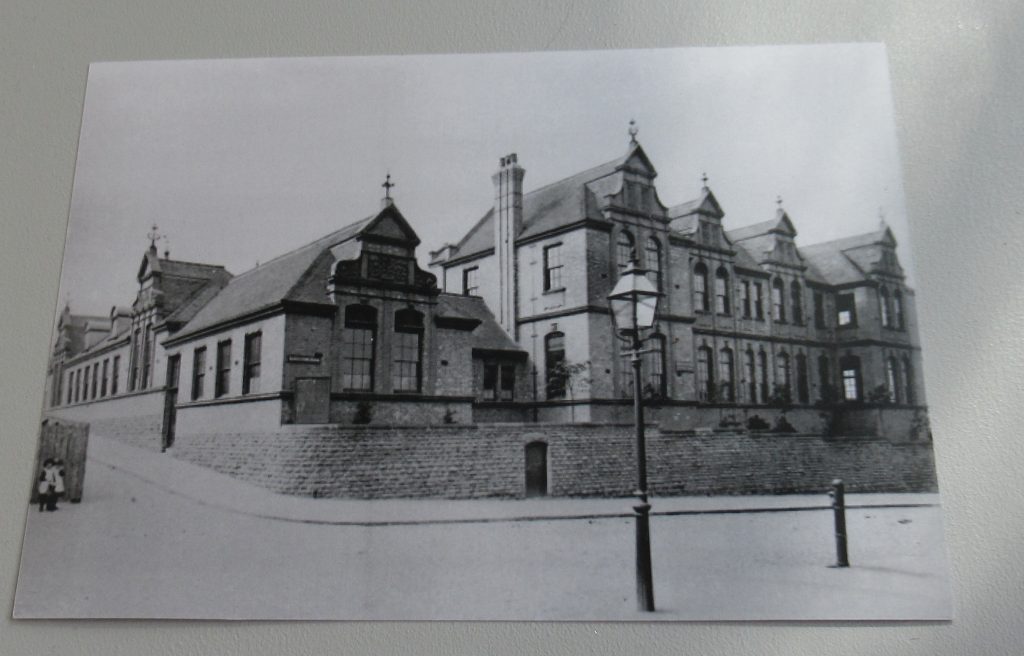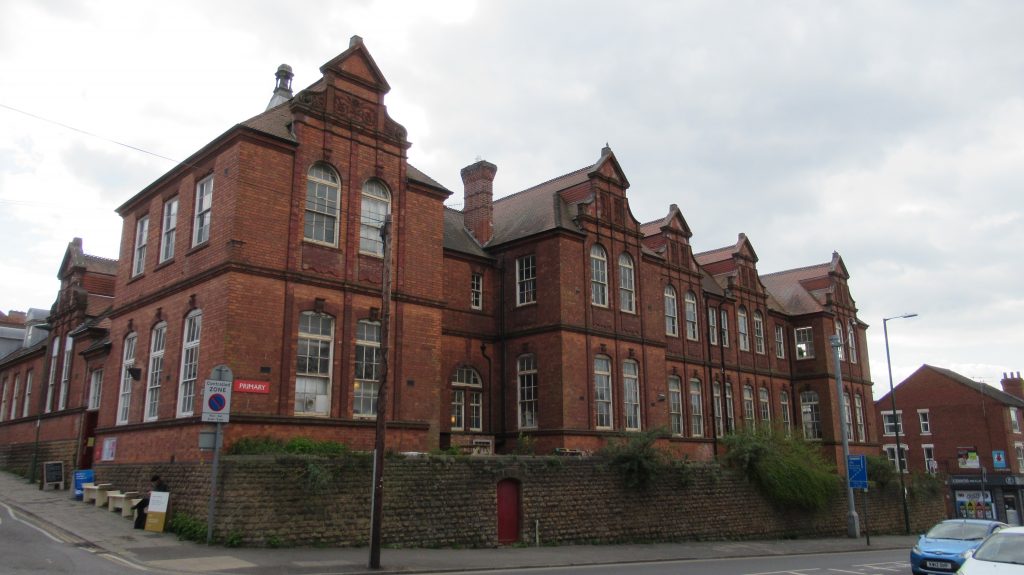 As you can see from these photos, the front of the building has been extended.
The architect for this building was Abraham Harrison Goodall (1847-1912). Born in Bradford, Goodall was articled to Richard Charles Sutton in Nottingham and was his assistant until 1874. R C Sutton is notable for the Romanesque architecture of the Congregational Church on Castle Gate (1863) which, because of its polychrome brickwork, is occasionally mistaken for the work of Watson Fothergill.
In 1874 A H Goodall moved to his own office at 14 Market Street, Nottingham.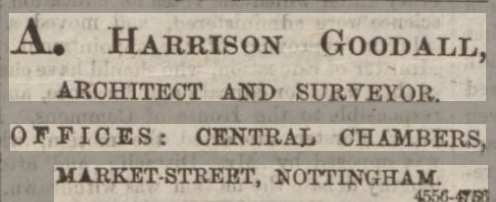 Other Nottingham buildings by A H Goodall include the 1887 Poor Law Guardians Office (now the Registry Office) on Shakespeare Street. This is a lush example of Italo-French Gothic with foliage and carving, with clustered shafts (columns) at the windows.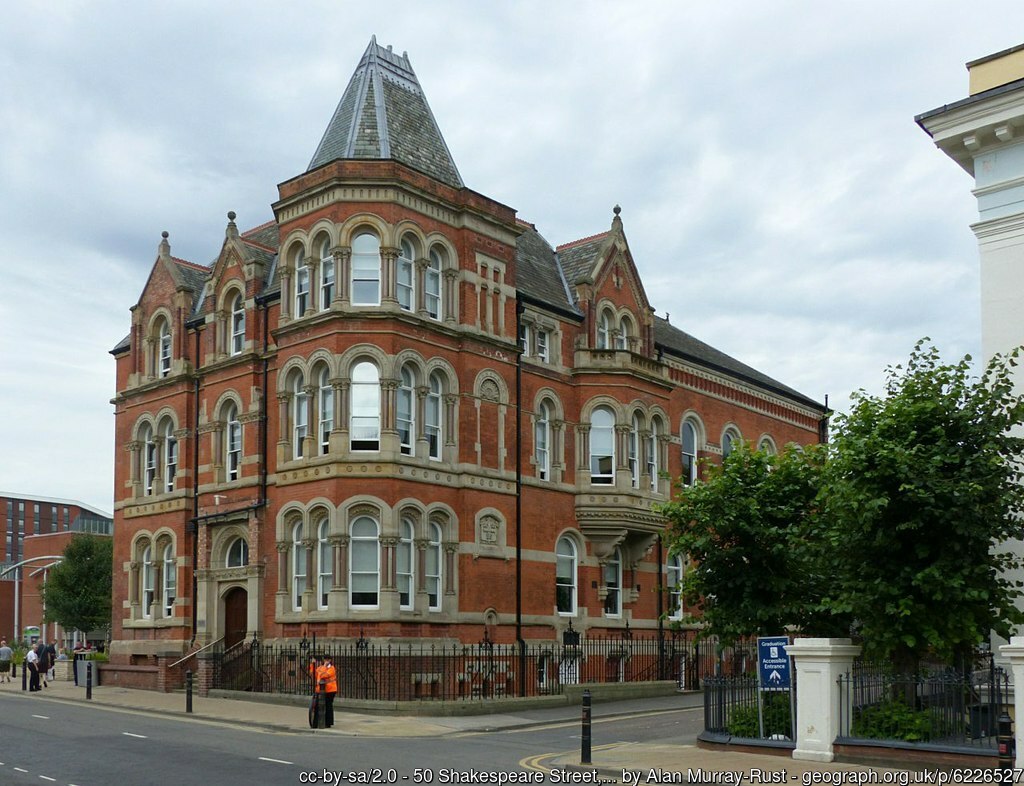 Goodall was also the architect of a terracotta-clad Lace Warehouse for Boden & Co on Fletcher Gate in the 1890s.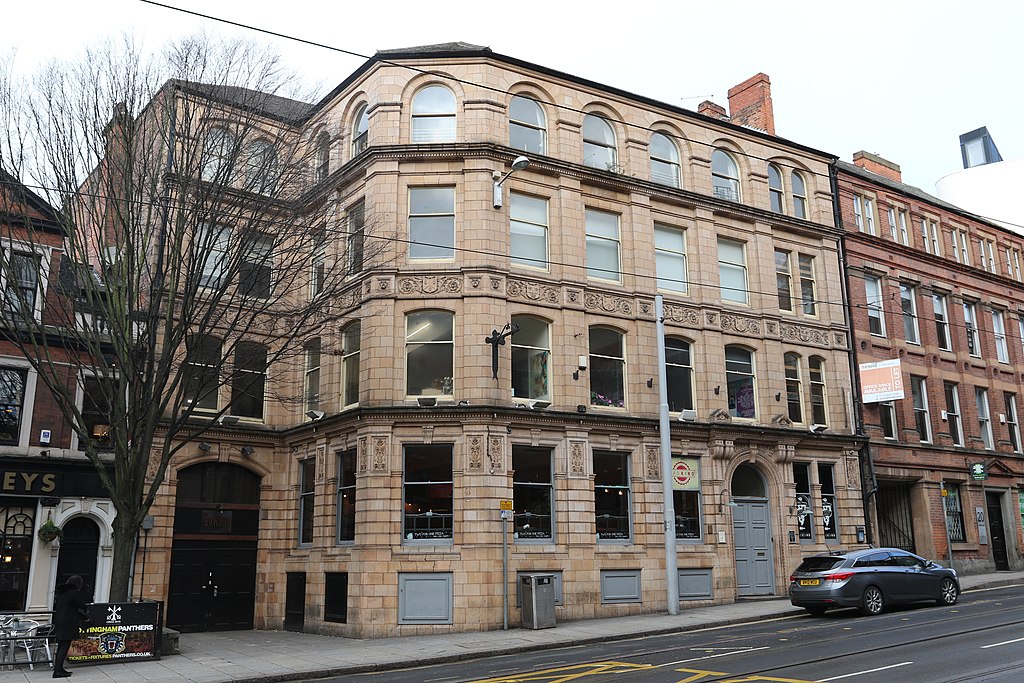 1909's Westminster Buildings, is a bold but coarse piece of Baroque Revival with a broken pediment, also by A H Goodall.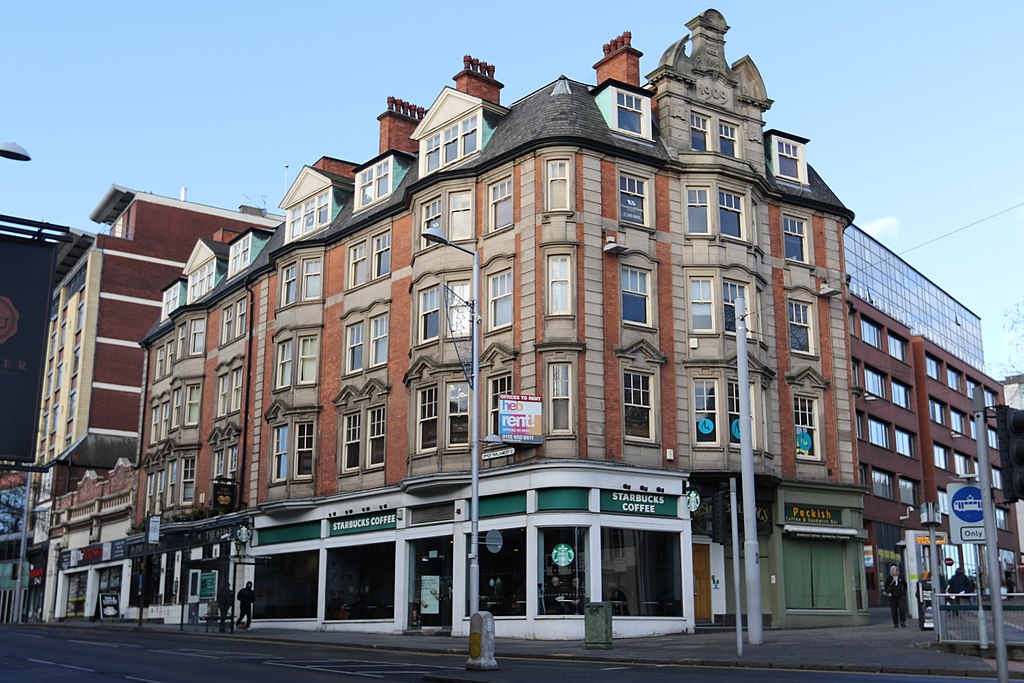 A H Goodall was also known for his work on several Methodist New Connexion Churches across the country. He built Sycamore Road School (1886) in St Anns, Nottingham. He became a Licentiate of the RIBA in 1911, a classification of membership for architects who had not taken formal examinations, he had however taken some classes at the Nottingham School of Art, and was given a prize for the design of a piano in 1868. He married Emma Sharpe in 1876, they lived at Noel Street and had at least 5 children. Their oldest son, Harry Hornby Goodall, followed his father into the architecture profession as well as being a noted cricketer who designed the Dixon memorial gates at Trent Bridge.
In 1906 AH Goodall had been in business for 31 years but following a series of "unwise speculations" and a failure to keep proper accounts he was declared bankrupt. The School Board work had now been passed to the city architect. Just the year before, in May 1905, Goodall had written to the Nottingham Journal to criticise the "unnecessary expenditure on school buildings", he calculated that spending on furniture was almost double what it had been in his time on the job, and that "This is the principal of the very liberal basis with a vengeance… Small wonder the education rate (tax) is high."
The Ilkeston Road Board School, which became Douglas Junior and Infant School and eventually Douglas Primary School, ceased to be a school in 2008. The school was much loved by its staff and pupils and held a special place in the local community. After a period where the building's future was uncertain, it became Primary, which uses the old classrooms as artist's studios and communal spaces as exhibition rooms, in 2011.
As a Grade II Listed building, changes can only be made when strictly necessary and the fabric of the building is well preserved. Some 1960s additions at the back of the building remain as well as the integral layout of the former classrooms, which lend themselves to use as artists' studio spaces. The interior has been painted white and some false ceilings have been removed revealing the scale of the Victorian classrooms.
Primary took the decision to purchase the building from Nottingham City Council in 2020 and with their crowdfunding campaign the plan is to make the building more fit for its current purpose, improving sustainability and providing level access so that it can remain a useful asset to the local community. Toilets will be improved and the open space in the former playground and rear garden will be developed.
Exhibitions in the building are regularly open to the public. The 'Making Place' Exhibition is open 21 May – 3 July, 2021. It reflects Primary's long term community programme, which looks at how we all interact with Nottingham's varied local history.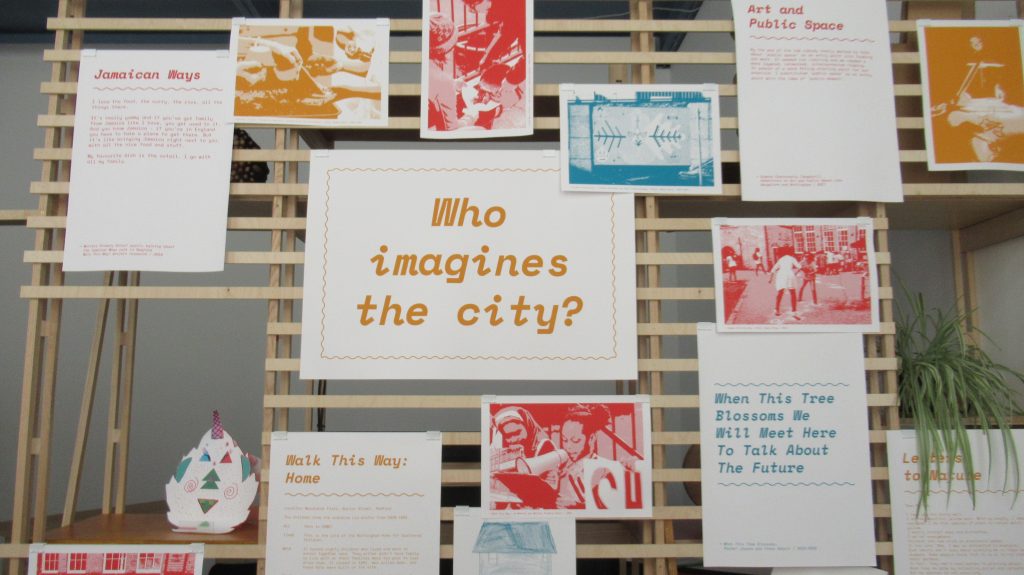 Help Primary to hit their Crowdfunding target – or even to exceed it – by signing up for one of the great rewards on offer – these include exclusive artworks, books, masterclasses, badges and walks with artists.
Find out more about Victorian Nottingham and the architects who built it by joining Lucy for one of her Watson Fothergill Walks – or Zoom talks.
Walks return in Summer 2021 – sign up to the mailing list for all the latest news.