In the last blog I found out some more about LG Summers' family background. This time I'm going to take a look at some of his buildings.
Starting from Sherwood, I went for a wander to find some of the buildings designed by Lawrence George Summers which are still standing in Nottingham. Around the corner from the larger blocks of Fothergill houses on Mansfield Road is a small house on Bingham Road which has characteristics easily mistaken for Fothergill, a decorative turret and a vernacular gable with brick nogging in distinctive red bricks with black timber.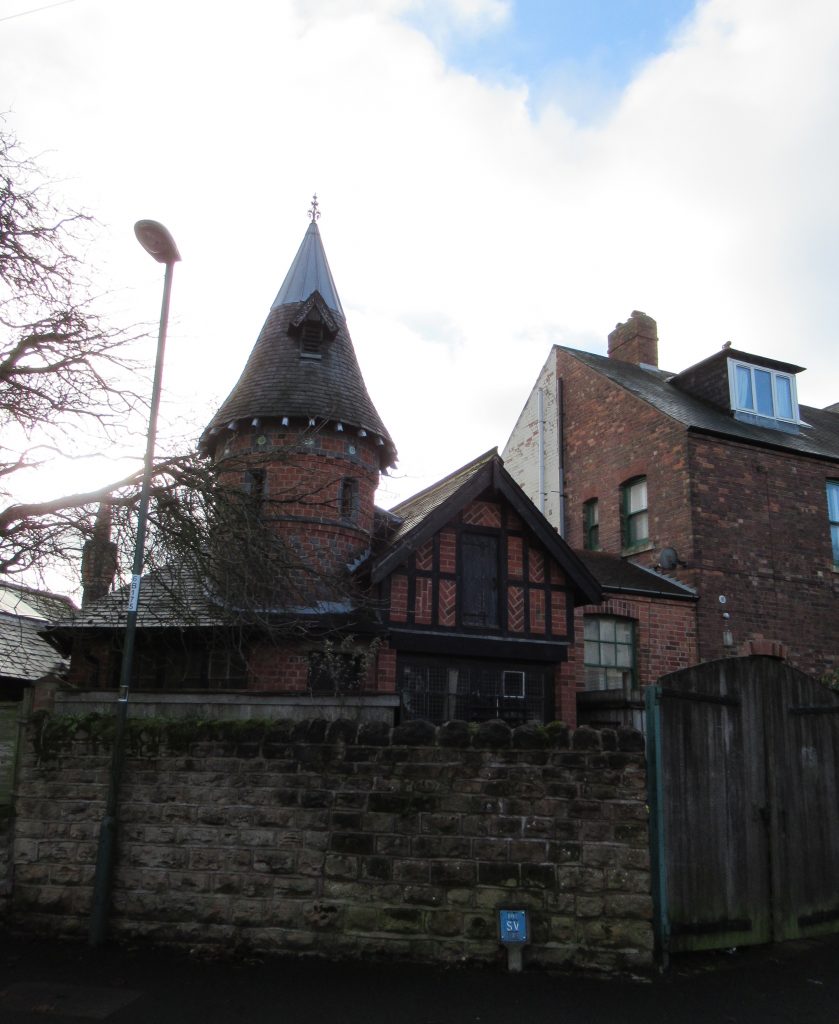 This garage is actually the work of Geoff Jordan who lives in a house by Summers next door! (Correction 2021 – LB)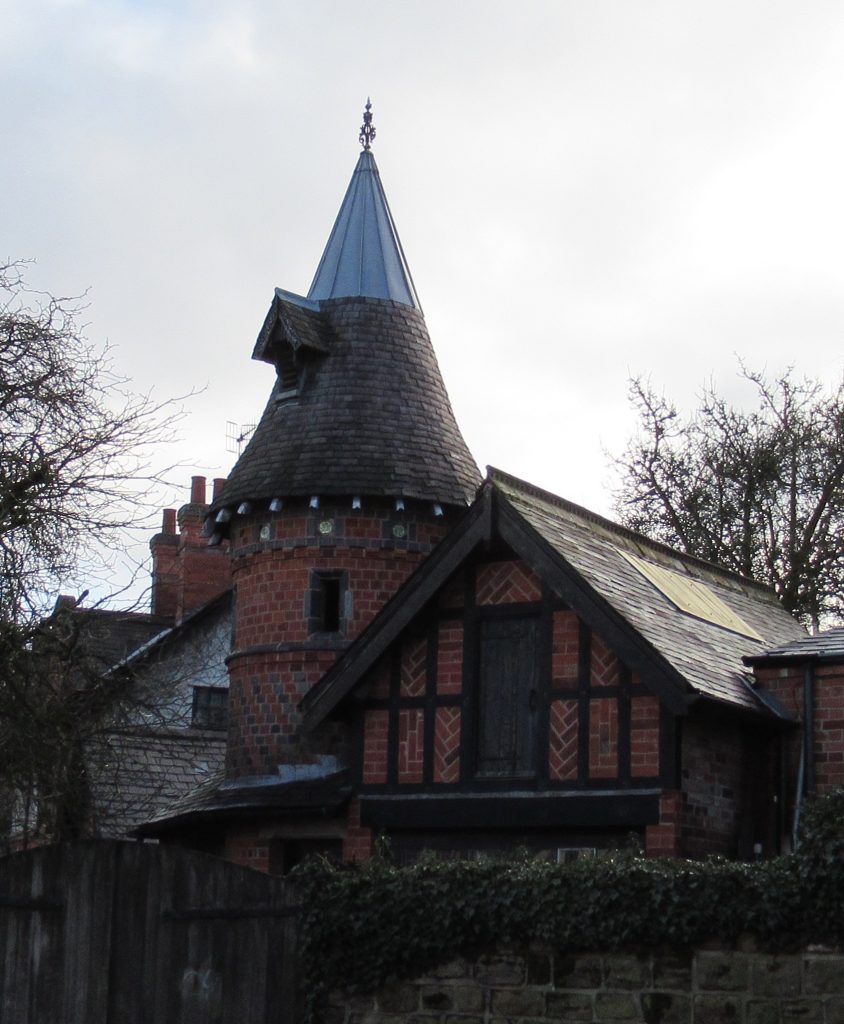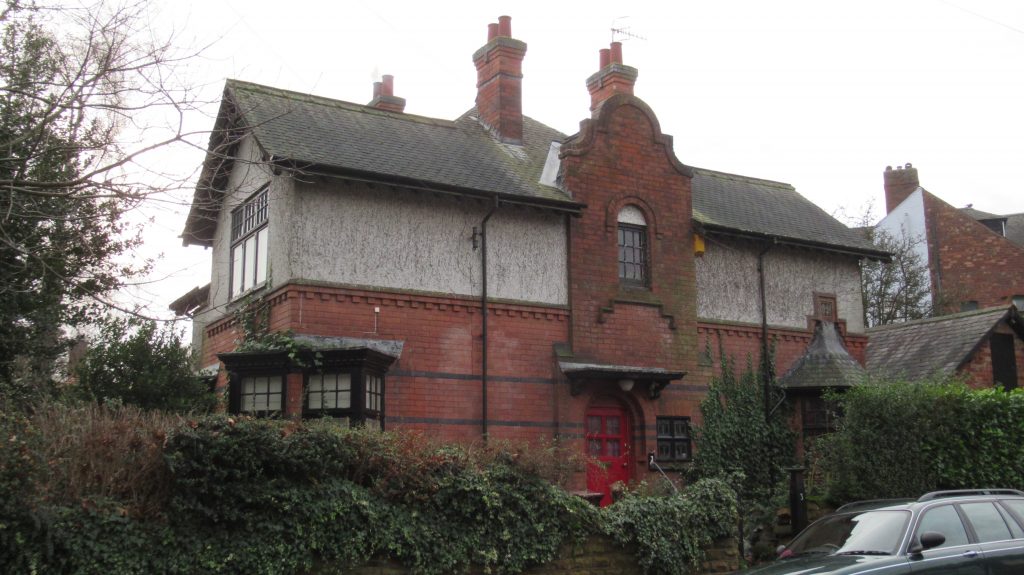 The house on Bingham Road (LGS25) was built for Thomas M. Basnett, a retired plumber's merchant in 1921. See my Carrington Crawl walk for more details.
A further foray into Carrington and eventually I find the next house on my list, on Herbert Road (LGS12). Little seems to be known about this, other than plans were approved in 1897 and the client was Mr J B Hughes.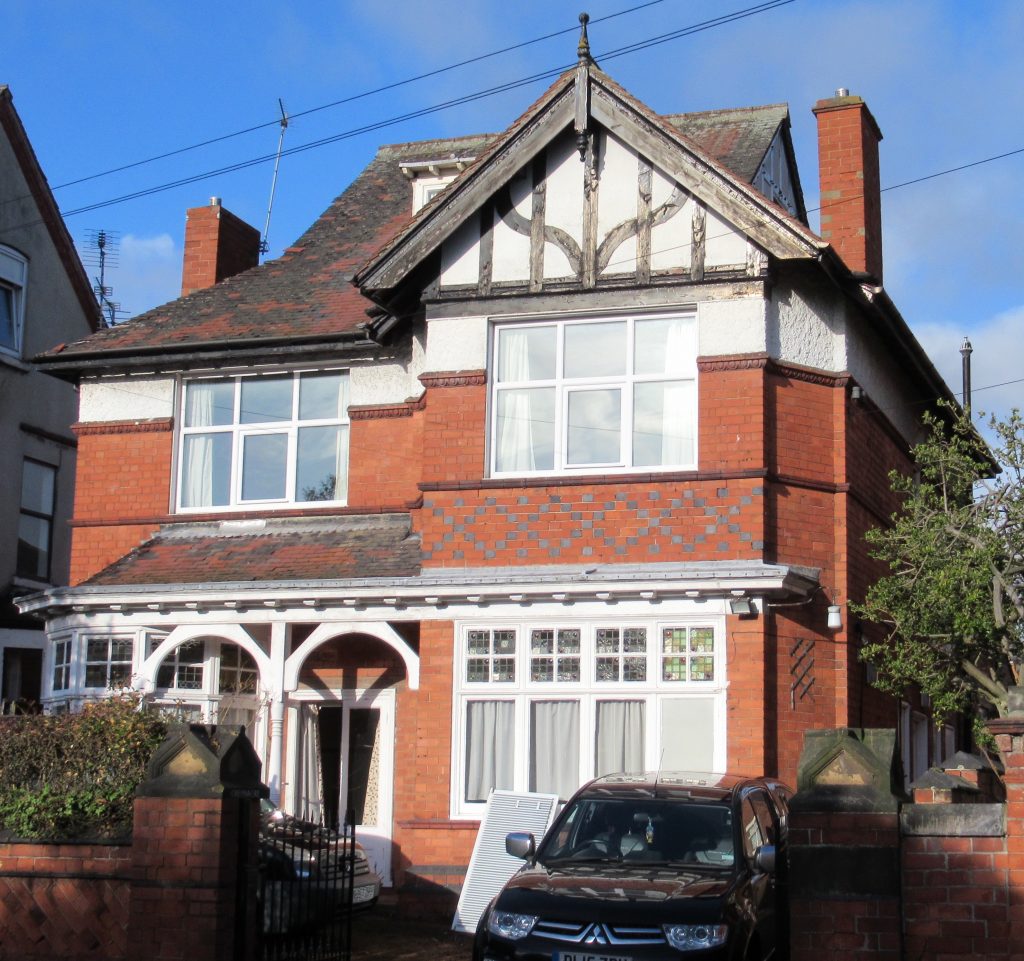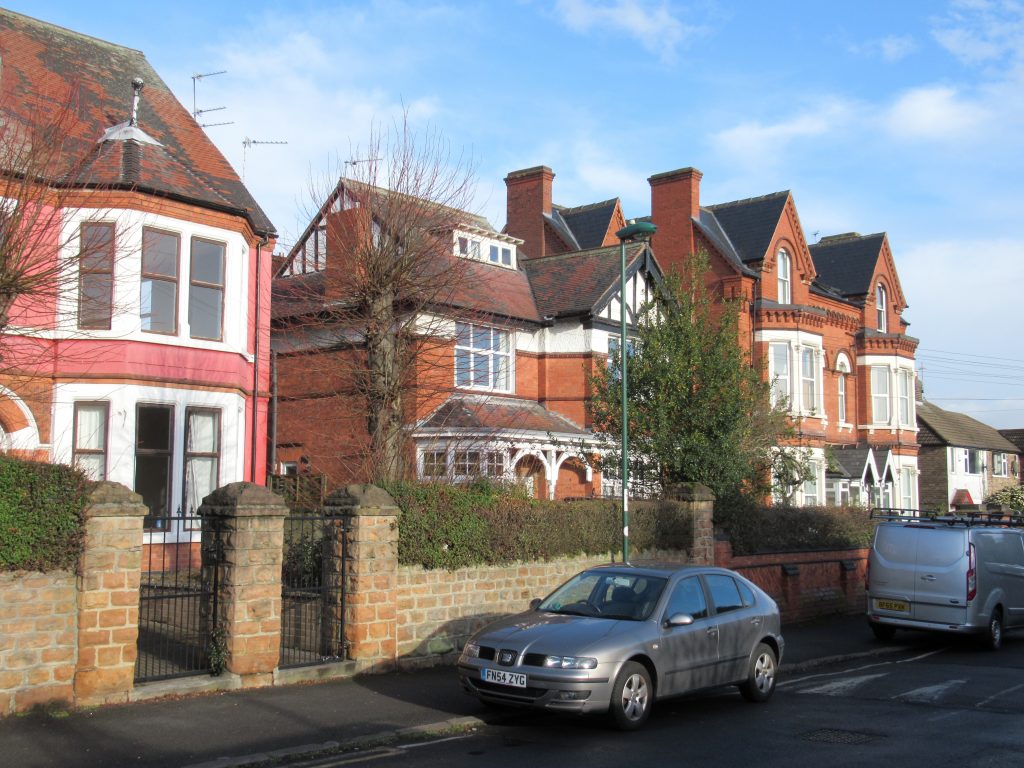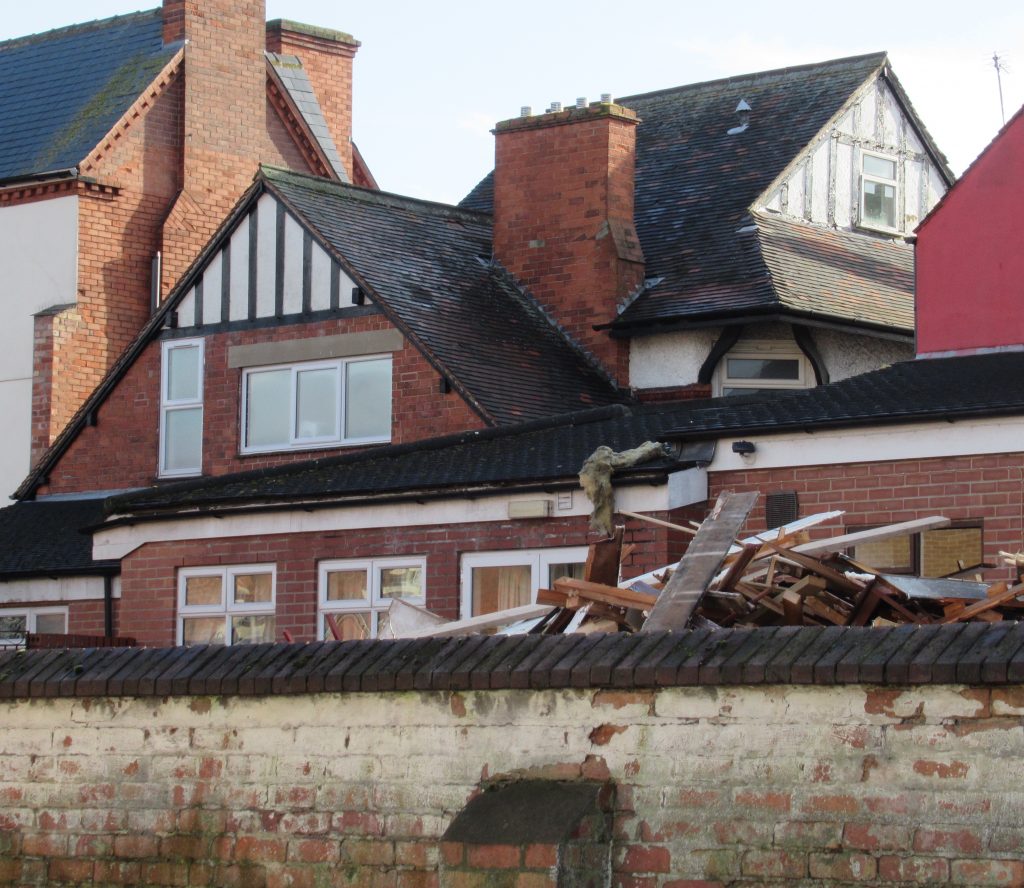 The next house on the trail was on Central Avenue (LGS22), not far away. This was built for Gilbert L Summers, LG's nephew, in 1914. Summers marked his name on the application with "ARIBA". After Fothergill retired LG signs off with his qualification. In the 1911 census Gilbert was living at 44 Central Avenue with his widowed father Frederick (LG's brother), his sister Evelyn and his niece (LG's sister Lola's daughter) Clara Richardson lived-in as their housekeeper. (It was common practice that an unmarried female member of the extended family would live-in to provide domestic help to unmarried or widowed male relatives.)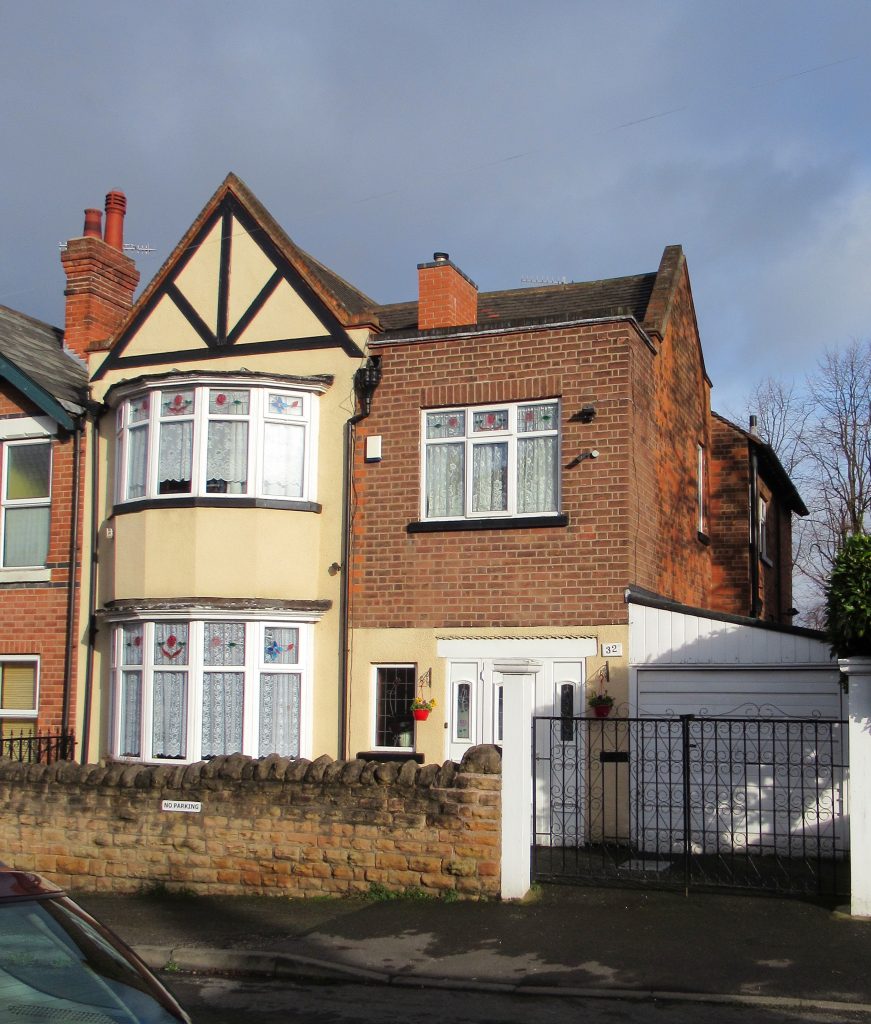 Gilbert Lawrence Summers is listed in the 1911 census as a Sewing Machine Mechanic. Perhaps he was working in the family lace firm in New Basford. By 1939, when a register was taken, Gilbert appears to be living in Wiverton Road (around the corner from other Summers buildings in Berridge Road) with his wife Lily.
Many of Lawrence Summers's buildings (at least the ones he signs off himself) were for members of his extended family in the New Basford area.
Over on Duke Street, a little further up the street from the site of the house where LG was born, are "Two Cottages" (LGS15). Built in 1899, these three storey houses stand out in a street that is now mostly light industrial buildings and modern additions.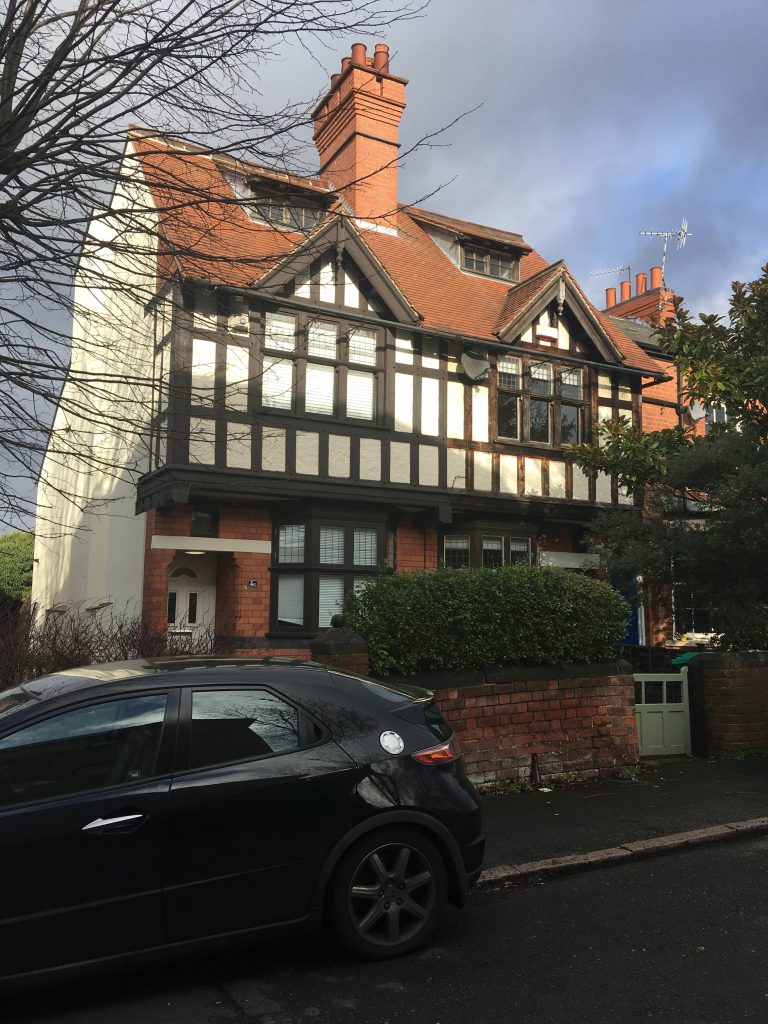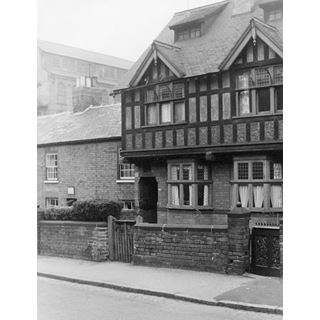 At the time, Summers was signing himself as "Architect of Corporation Oaks". In 1881 various members of the Summers family were living on Duke Street. The numbering of the houses has changed and perhaps the old family home was demolished. His sister Lola, Mrs Richardson, and her family were living at 2 Duke Street, and his father George Summers with second wife Louisa, plus Lawrence's younger brothers Frederick and Alexander were next door at number 4. In the 1891 census LG is living with his brother Frederick and his family at number 4, while their father, George, is at number 2 with Louisa and their 9 year old son William. Did they subsequently move up Duke Street to the new cottages that LG designed with himself as the client? In 1910, Summers applied to extend the Duke Street houses into shops (LGS21), again he himself was the client, which suggested that members of the Summers family were indeed living in the cottages. As far as I can tell these are now the adjacent property which has been turned back into dwellings. The shape of the shop fronts remain, albeit much altered.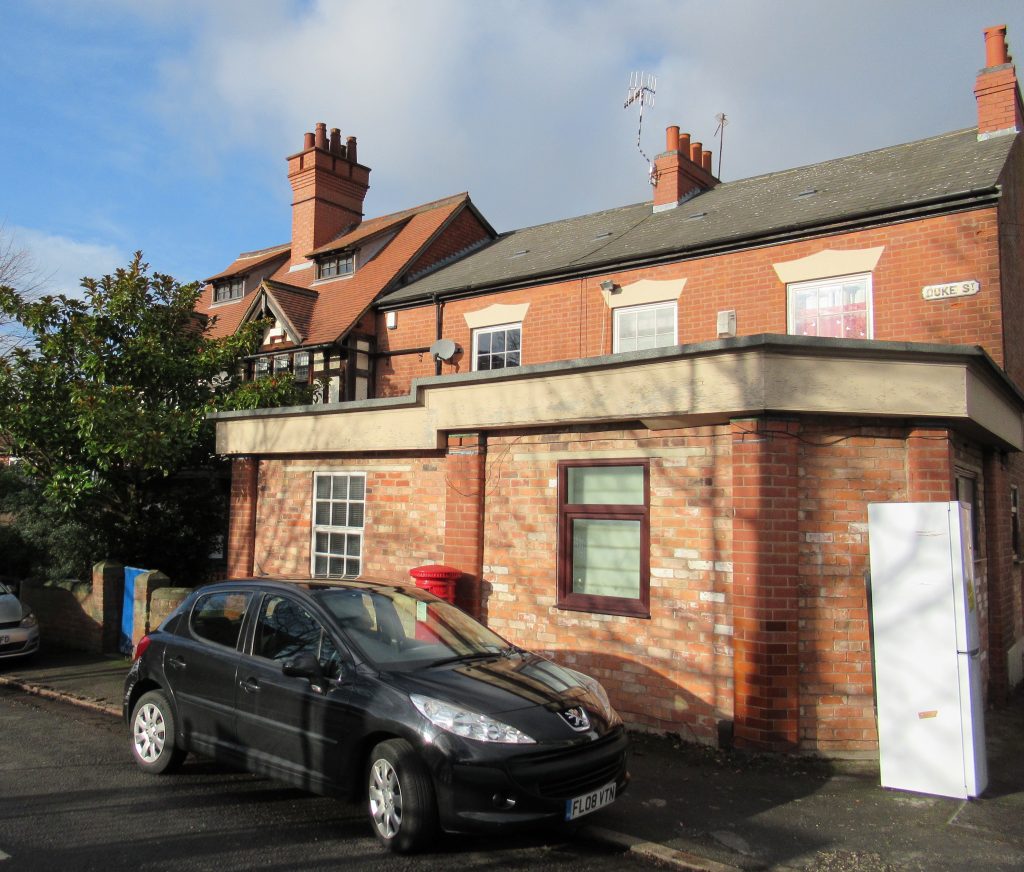 Lawrence's youngest brother Alexander was still living in New Basford in 1901 and is listed on the census as a Pork Butcher and Shopkeeper, so perhaps the shop was his?
Following the road, past what are now mostly motor garages in older industrial buildings, some dated 1840s and some 1870s, an indication that this area was already industrial at the time the Summers family lived here when Lawrence was a child. His father's lace business was almost certainly here.
Down at the bottom on Northgate, it is just possible to recognise the small two storey factory (LGS3), that Summers designed for James Allen in 1882.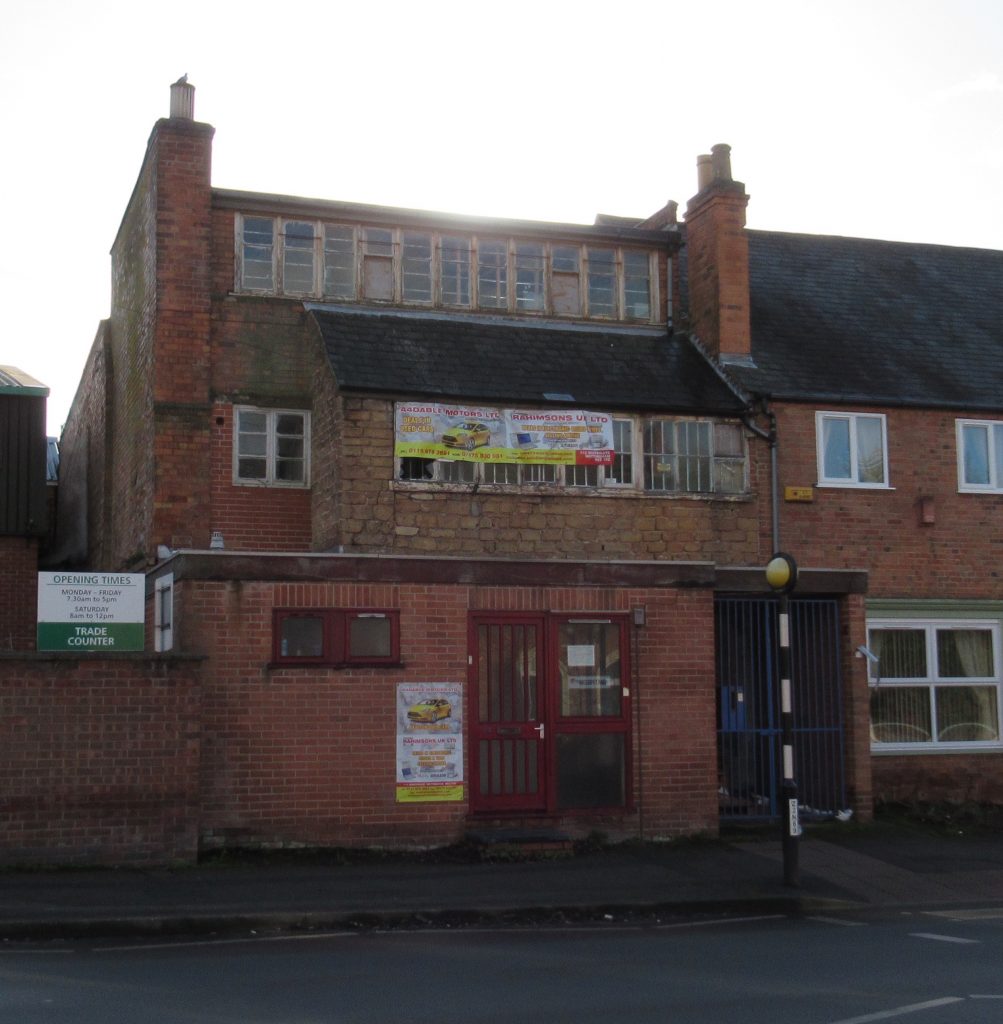 At this time Summers is signing himself as "Architect, 11 South Parade Nottingham" (South Parade makes up the side of the Market Square that runs up the opposite side to Long Row). Summers was admitted to RIBA in 1881 but isn't using letters after his name at this point. It is assumed he was in the Clinton Street office with Fothergill from around 1879, having also been articled as a pupil to Issac Charles Gilbert from 1869. (His studies at the Mechanics Institute and Nottingham School of Art were running concurrently).
Look out for the next installment of my blog as I carry on into Mapperley Park on the trial of LG Summers…
I hope to organise a walk featuring some of Fothergill and Summers buildings in and around Sherwood, Sherwood Rise and Mapperley Park later this year – sign up to my mailing list for the latest news or "like" the Facebook page.