A look at one of the few buildings that Fothergill worked on outside Nottinghamshire.
I was in the neighbourhood recently, so took the opportunity to have a closer look at an intriguing building. Dunedin, now called Burnage Court, on Lawrie Park Avenue in Syndenham, South London. It's something of a mystery how Fothergill Watson came to work on additions to this house, but I've done some digging to see what I can find. (As this was in 1888, it was before his name change to Watson Fothergill.)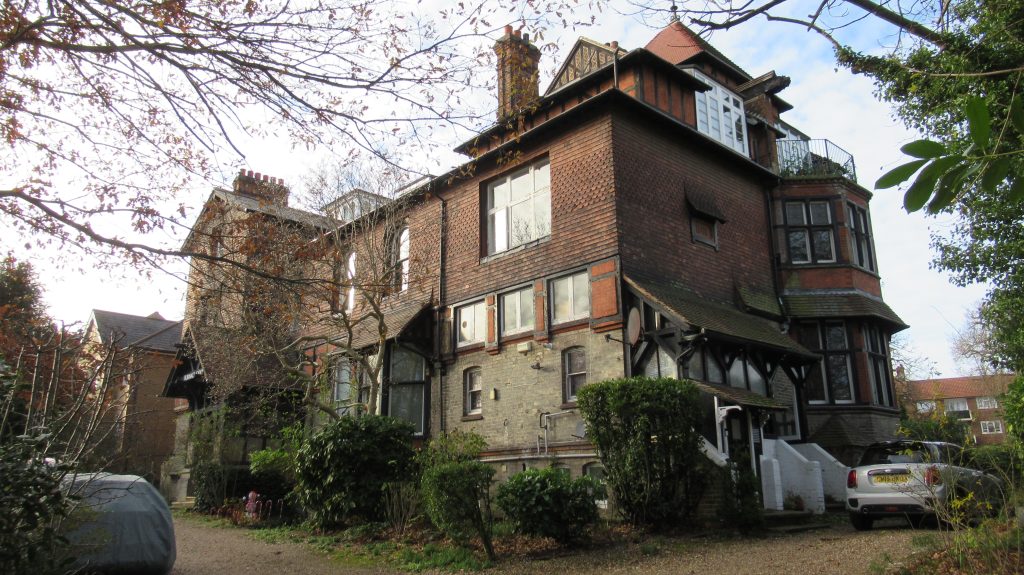 I took some photos from the road, and then I knocked on a couple of doors to see if there was anyone in. Huge thanks to Ritchye for talking to me and letting me have a little look around inside her flat. (It was on the market last year and photos are still online).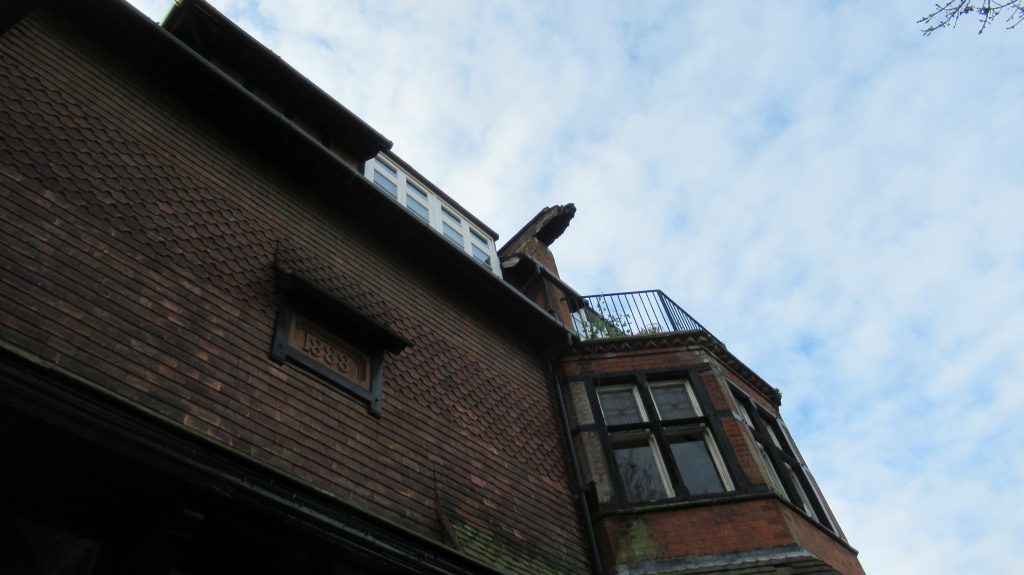 There is a date stone on the side of the house that matches the date in Fothergill's 1888 diary when he records a visit "to Littleton's house Sydenham about additions" (quoted in Darren Turner: Fothergill: A Catalogue of The Works of Watson Fothergill, new edition with photos now available).
Certainly the red brick parts of the house and some of the details seem recognisable as part of Fothergill's oeuvre, but "additions" points to the fact that he was working to alter an existing property, perhaps in a similar way to the work done on St Andrews House in Nottingham, where he added sections to an existing Georgian house. 
A little digging uncovered a few clues. Not least this painting by Impressionist painter Camile Pissarro…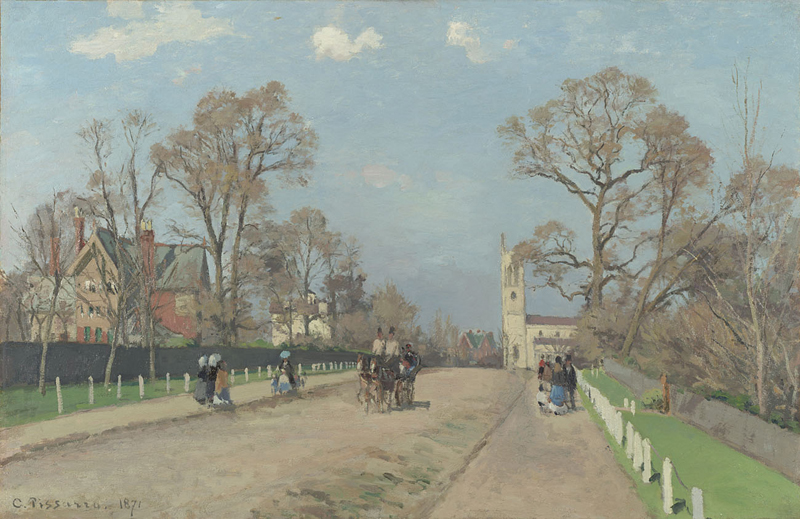 Compare the view that Pissarro painted "en plein air" during his London exile during the Franco-Prussian war with the view down Lawrie Park Avenue today and St Bartholomew's church is still easy to spot… I believe Dunedin, as it would have been before Fothergill's additions, is the cream-coloured building near the centre of the picture.
A search of local blogs reveals that there was a house called Dunedin on the spot since around the 1860s and it was adjacent to Westwood House. The road was renamed Lawrie Park Avenue later. The clues from Fothergill's diary entry start to make some sense.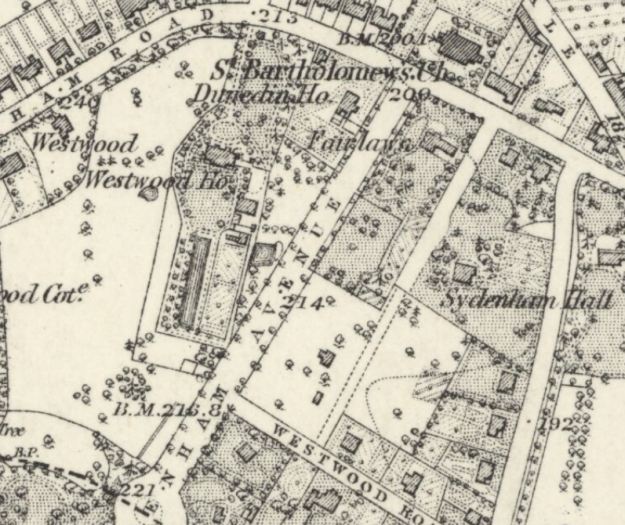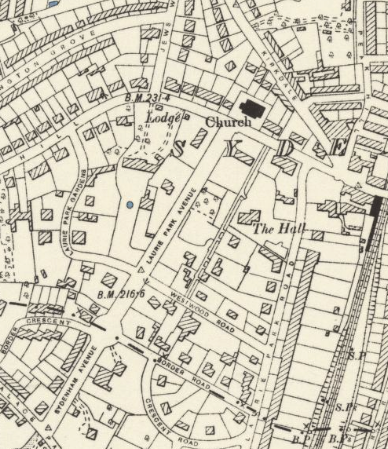 The rest of Fothergill's diary entry reads: "The mansion in the grounds called Westwood was built by Pearson 3 or 4 years ago. Bright red bricks with elaborate Royal and figure Carvings to all windows. The roof all of bright red tiles with turrets etc. This and the houses of the two sons lighted by electricity throughout."
So, we have Mr Littleton, his two sons and a mansion called Westwood built by Pearson.
Mr Littleton was Henry Littleton (1823 – 1888), a music publisher who had risen in his profession to take over the Novello empire. (No relation to the performer Ivor Novello – who took the name for the stage as it was well known in musical circles). I delved into Michael Hurd's exhaustive history of the firm, Vincent Novello & Co and Two Centuries of Soho by JH Cardwell. (available to browse on the Internet Archive).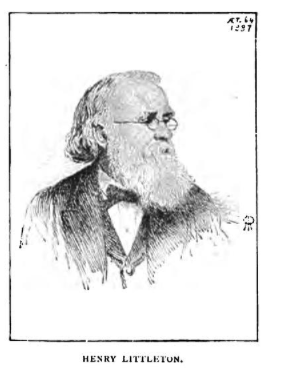 At his retirement about a year before his death, Henry had appointed his sons, Alfred Henry Littleton (1845-1914) and Augustus James Littleton (1854-1943) as directors of the firm which was then called Novello, Ewer & Co. Both sons had joined the firm aged 17, with Alfred eventually becoming the head of the firm and Augustus looking after the bookbinding and printing side of the enterprise.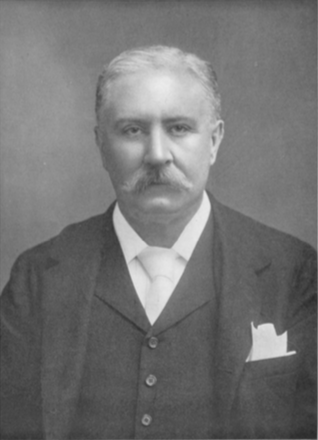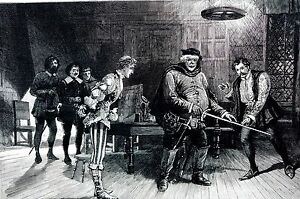 Henry Littleton purchased a farmhouse on the south slope of Sydenham's West Hill in 1874, this was the first version of Westwood House. He engaged the architect John Loughborough Pearson to extend and remodel the house in red brick, with the air of a French Chateau. The house had "gables, turrets and tall chimneys sprouted everywhere. Spacious windows with heads of great composers set in stained glass medallions along with a coat of arms drummed up for Sir Henry de Littleton". The effect was theatrical.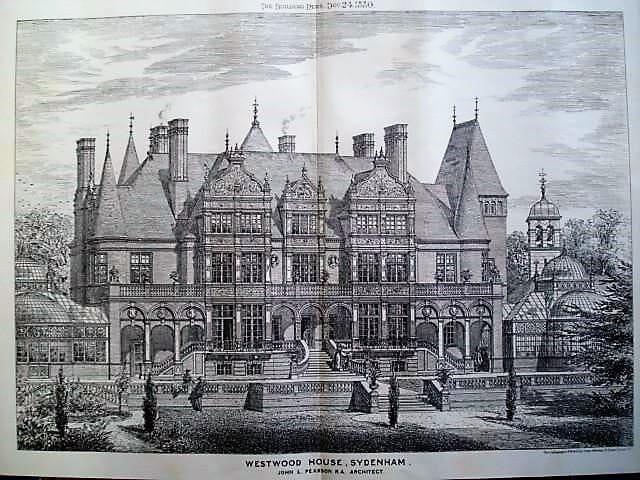 Westwood House was not only a "noble and imposing mansion with a carriage drive and ornamental lodge at the entrance" (as it was described when it was sold in 1895), it also boasted a teak panelled music salon. It opened in July 1881 and Henry Littleton used the house to host big names whose work he published, including Dvorak and Franz Liszt .
Frank Loughborough Pearson, the architect's son, was to marry Alfred's daughter Cecilia Littleton and go on to work on a headquarters for Novello and Co on Wardour Street. There is a very tenuous connection to Fothergill here: Pearson worked with sculptor Nathanial Hitch, who may also have worked on the friezes on the Nottingham and Notts bank HQ.
Augustus Littleton is cited as the source for photographs in several books of the period dealing with interior design and sculpture. Indeed, the rest of Fothergill's 1888 diary entry concerns viewing a bust of Liszt that Augustus Littleton had in his drawing room, which is likely to have been a clay model for this sculpture by Boehm.
In the 1881 census, both Alfred and Augustus Littleton and their families are listed as living in the vicinity of West Hill. Alfred at The Avenue, Dunedin House and Augustus at Laurie Park Gardens. By 1891 all the Littleton family members seem to have left the area. Alfred was then residing in Hyde Park Gardens, but several of his children were born in Syndenham.
So, it's difficult to confirm who commissioned the work on Dunedin, how Fothergill might have been connected to the wealthy Littleton brothers and for how long they might have stayed in the house (and, indeed, if they lived in it after Fothergill worked on it). The 1939 register indicates that the house had been turned into flats by that time, with some of it empty when the register was taken.
Westwood House was to suffer a more drastic fate… It was sold off and in 1899 became the Passmore Edwards Teachers' Orphanage, it closed in 1939 and was demolished in 1952. There is now a housing estate and a care home named Westwood House on the site.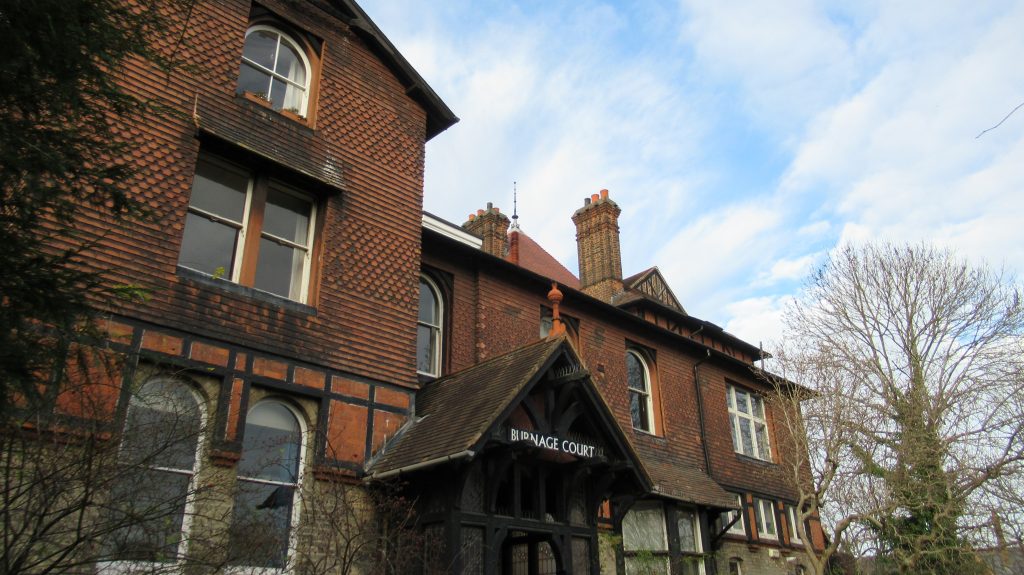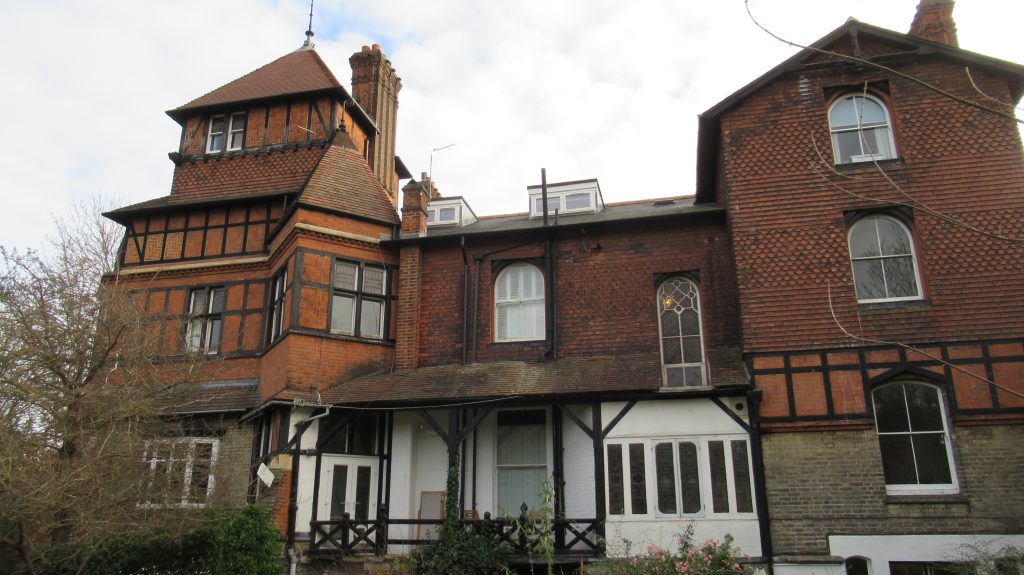 The house is now divided into 8 flats, one was recently on the market for rent, and one is occasionally available as accommodation via Airbnb.
The building is not listed, and various alterations have been made over the years. A lot of coloured glass, which looks typical of Fothergill, remains. Looking closer at the photos, I think that Dunedin was originally made of yellow brick (typical of other houses in the area) and Fothergill added red brick elements, timber details and decorations, perhaps to compliment the adjacent Westwood House. The chimneys, the brick nogging, the timber cladding inside and the tower all make sense in this context.
If anyone knows any more about Dunedin, The Littleton family or Fothergill's possible connections to South London please contact me. (Fothergill attended Mr Long's School, Clapham Park School as a child and visited Upper Norwood with his wife in 1883. He later named some streets in a speculative development in Nottingham Clapham, Norwood, Brixton and Sydenham, so perhaps had some affection for the area?)
Watson Fothergill Virtual Walk will be back in 2021 and walking tours of Nottingham will resume in the Spring. Please ensure that you have joined the mailing list for updates!