Last week I braved the cold to go to Retford where there are a couple of very different examples of Fothergill's architectural work.
Retford, in North Nottinghamshire, is not somewhere I've had a chance to explore before. I did a little research on its history in preparation for my visit. Retford is made up of the market town of East Retford (established around 1100) and on the other side of the River Idle, the smaller, older West Retford (mentioned in the Domesday Book of 1086). In 1878 East and West Retford became a single borough.
Nowadays, Retford retains a wealth of Georgian and Victorian architecture. Buildings that are thanks to the prosperity brought to the town by the Great North Road in 1766, the Chesterfield Canal in 1777 and the railways in 1849. There is a grand town hall with market buildings, a substantial market square, several notable churches and many impressive buildings for the architecture spotter to enjoy. I recommend following the Retford Civic Society's Heritage Trail (leaflet from Retford Library or download directly as a pdf here.)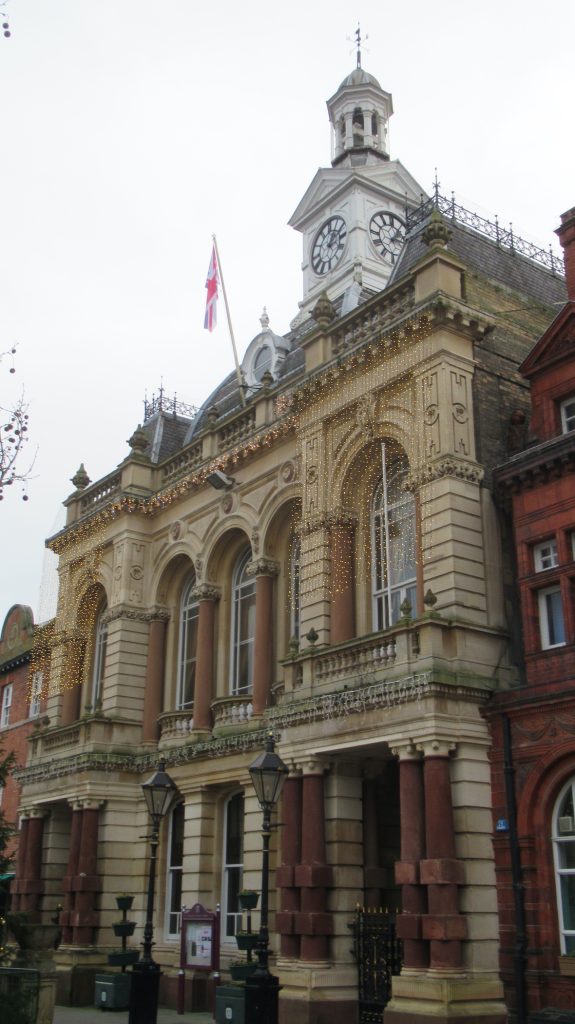 Retford Town Hall, by architects Bellamy and Hardy of Lincoln, is similar to another town hall they designed for Ipswich, and was described by them as "Italian style", although it has a "slightly overblown" roof that is more like a French chateau. It was described by Pevsner as a "bad mansard roof and a bad turret". For all that I think it's quite a jolly building, especially with the Christmas decorations up.
The Trinity Hospital in West Retford is another significant building, not only of itself but also because the Trinity Hospital Bailiffs (administrators) were responsible for a lot of other building work that took place close by. (For an in-depth history of Trinity Hospital and its impact on Retford, see Jean M. Nicholson's book A Godly Inheritance.)
Of particular interest to me were the buildings on Bridgegate. The street leads from the Market Square out of the centre of town on the route of the old Great North Road. Many of the buildings on the West Retford side of the river have tiles with the hospital's TH monogram as they were owned and built by the charity. Of particular interest to me was the group around St Michael's Place, the oldest of which, Sandrock House is by Fothergill Watson (pre-name change). In red brick with some characteristic features – a picturesque roofline with a turret and tall chimneys – the date stone reads 1877.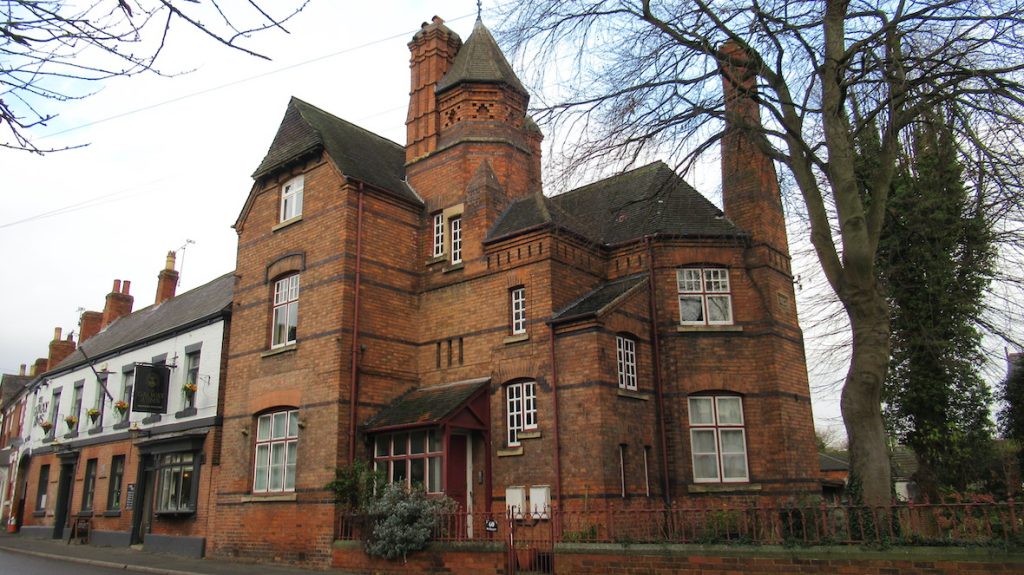 Research by Jean Nicholson for The Thornton Society (quoted by Darren Turner in his Fothergill Catalogue) provides clues to Fothergill's involvement in Sandrock House. In 1876 houses belonging to Trinity Hospital on the site next to the Galway Arms were in a ruinous condition and the Bailiff John Henry Worth, who had undertaken a programme of improvement of the houses on Bridgegate, decided to replace them with a crescent to be known as St Michael's Place.
Fothergill's diary notes that the house was to cost £500, but it appears that it exceeded this amount and Fothergill did not complete the interiors of the house. Edwin Wilmshurst (who succeeded Mr Worth as Bailiff) noted in 1907 that he had made additions and that the inside of the house was "badly designed by Mr Fothergill Watson of Nottingham".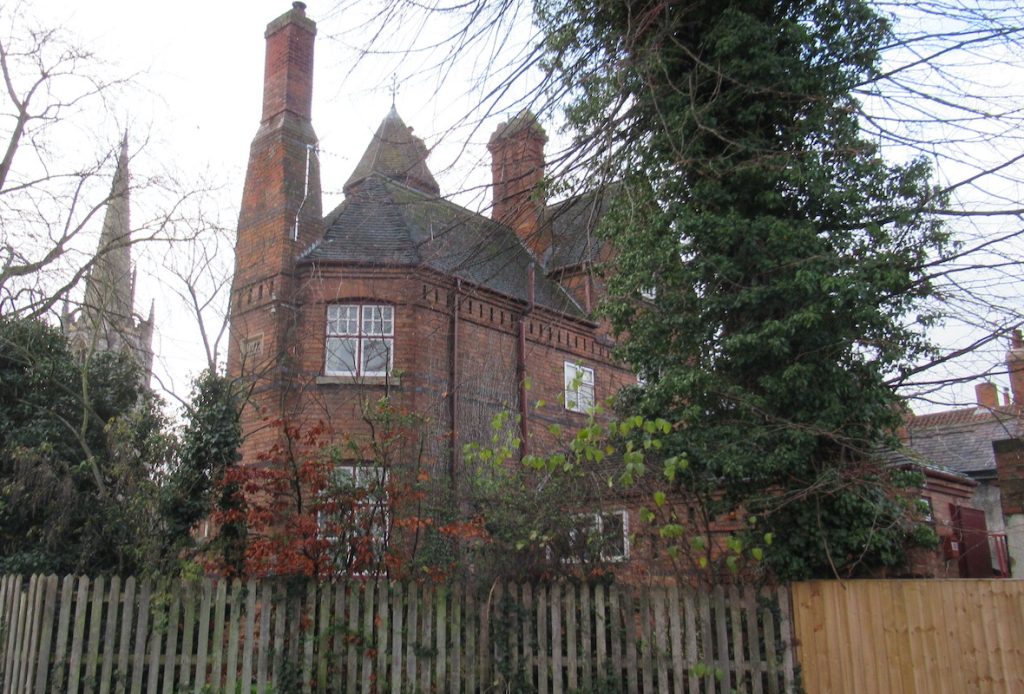 While I was taking photos, the owner of the house came out to walk his dogs, I asked him about the house interiors, and he implied that they were not particularly remarkable and that although the house was very warm, the inside of the turret was rather damp!
Perhaps the expense of Fothergill's design was one reason why the other two houses on St Michael's Place were designed by local architect R. Bertram Ogle.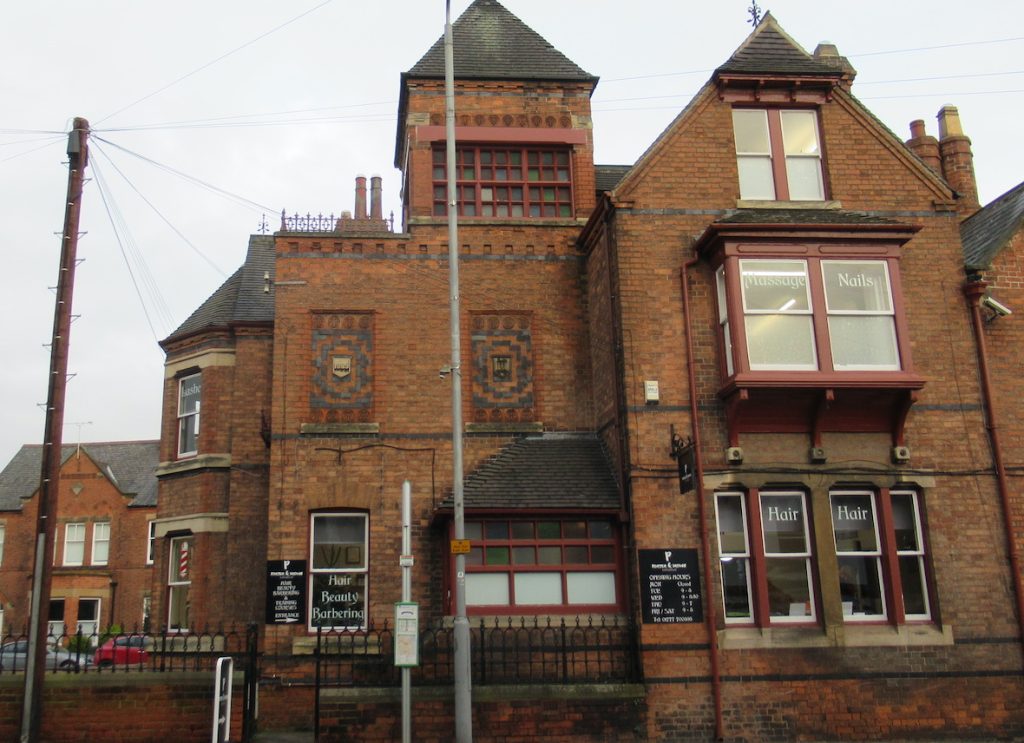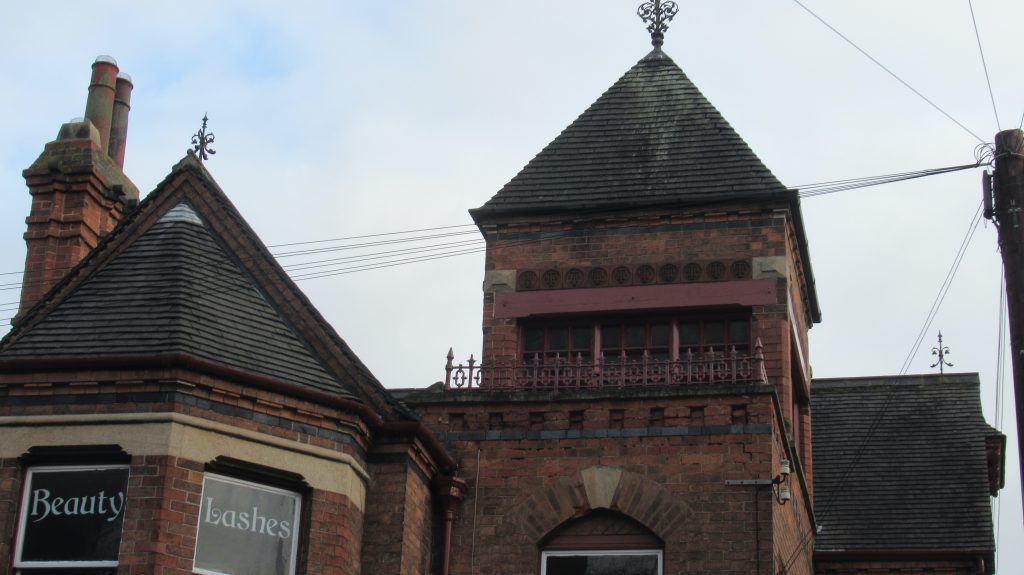 Tower House with polychrome brickwork, tower and solid bay windows responds to Fothergill's Sandrock House. Robert Bertram Ogle (1850-1908) was born in Newcastle but practised as an architect in Retford during the 1880s and 90s. He was also responsible for the rather plainer Crown House, 1902, that makes the third side of the Crescent.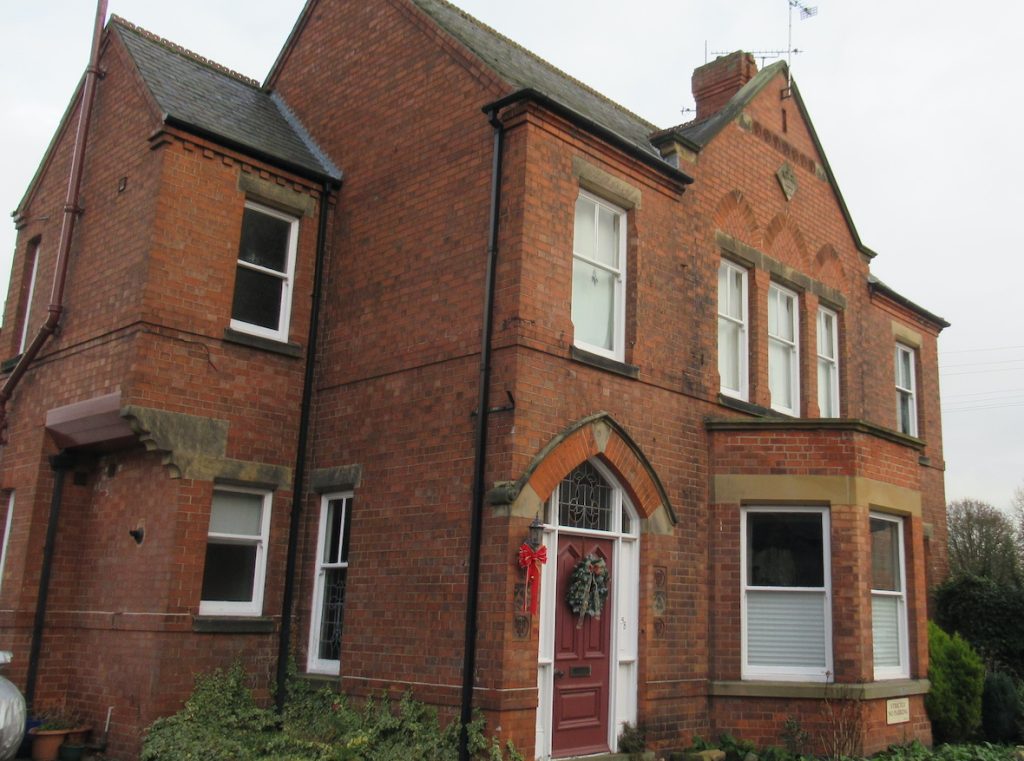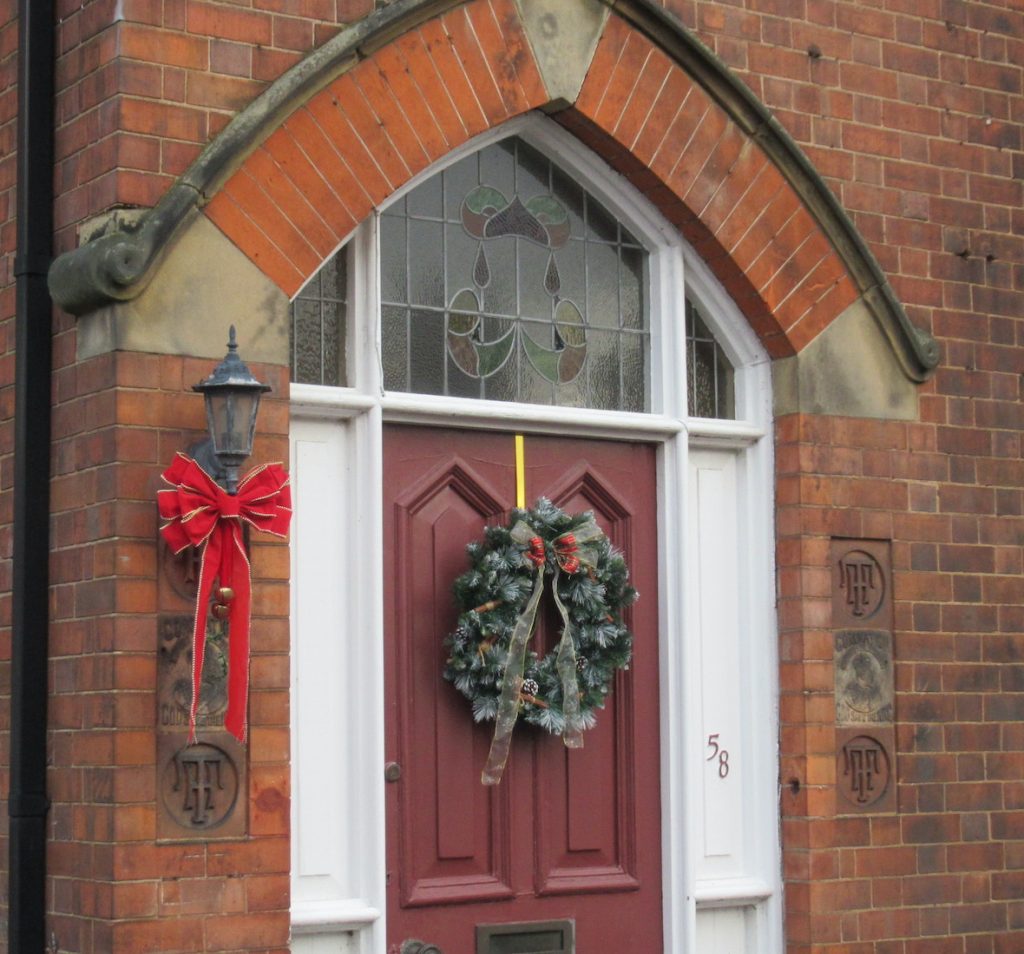 The other building in Retford where evidence of Fothergill's involvement has been found was, until recently, the Nat West Bank on the market square. 21 The Square is up for rent (December 2022). This building was built as a house but then became a branch of the Nottingham and Notts Bank, for whom Fothergill designed several branches (including their HQ on Thurland Street in Nottingham which features on The Watson Fothergill Walk). Fothergill made alterations to Mr Newton's House in order to convert it into a bank and residence for the manager in 1877. It appears that Fothergill restrained his usual love of Gothic to provide a frontage more in line with the existing building.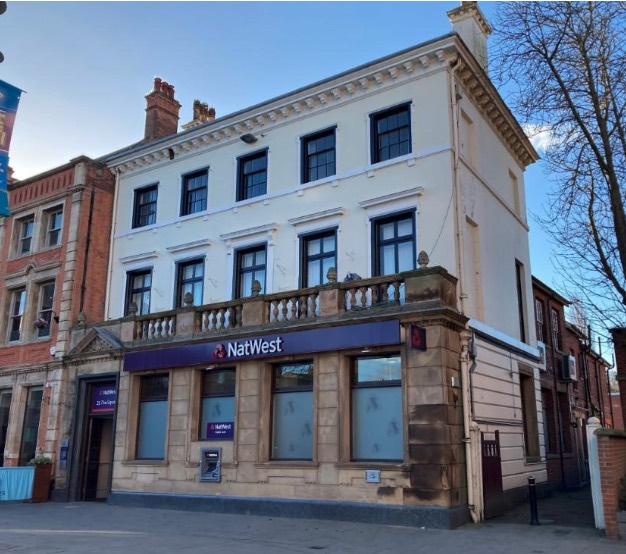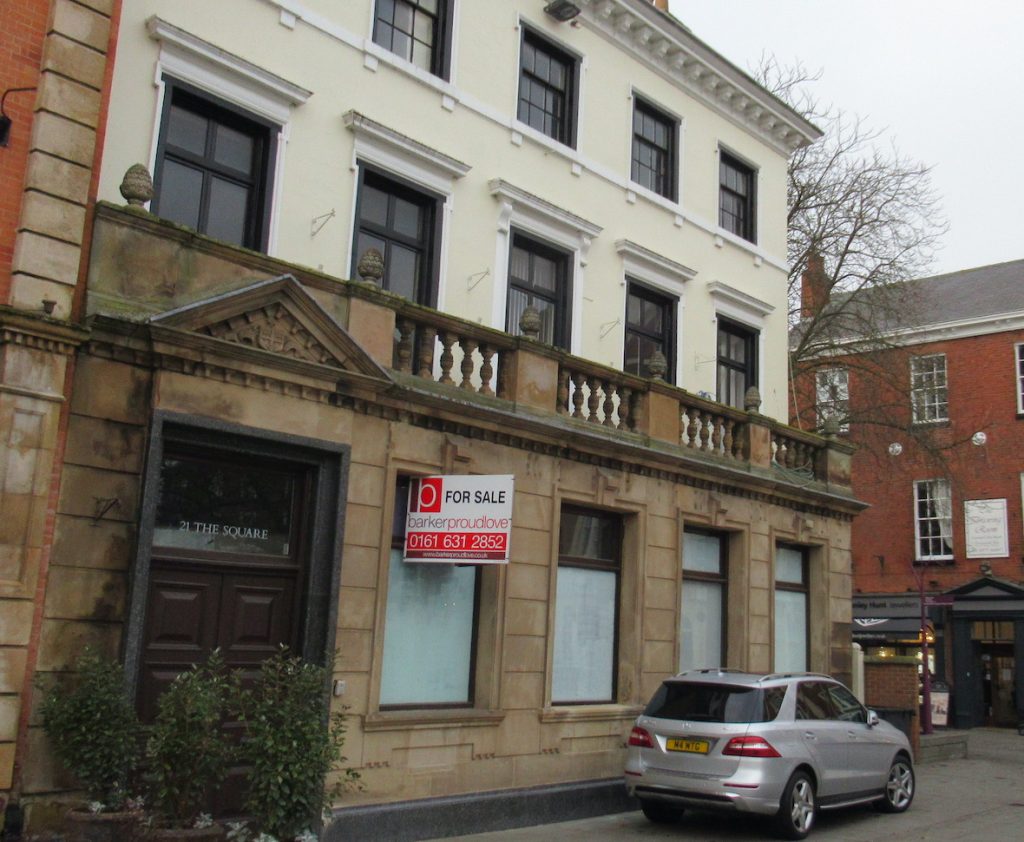 More Watson Fothergill Walks will be coming in 2023… meanwhile you can sign up to receive news of forthcoming dates or purchase gift vouchers to redeem against any tickets on Eventbrite.